Hancock in the hunt
Greg Hancock can boost his title chances at his happy hunting ground, the Nordic GP, says Kelvin.
Last Updated: 21/09/12 2:03pm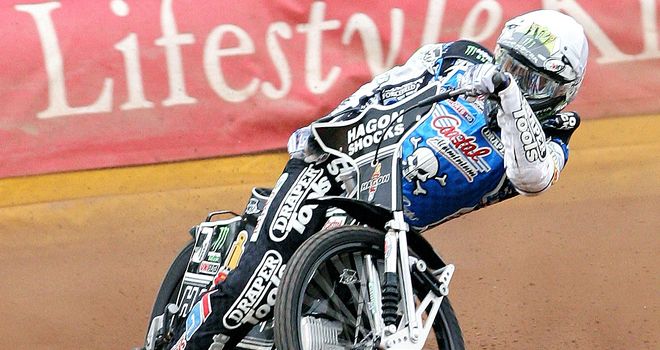 Going into the penultimate Grand Prix of the season the championship is finely poised and we could be set for a grandstand finish.
Australia's Chris Holder is the man with the momentum behind him and he has an eight point lead heading into Saturday night's Nordic GP, which is live on Sky.
Holder has taken 40 points from the last two meets, backing up his brilliant performance at the British GP with a solid ride in Sweden at the Scandinavian GP a fortnight ago.
His second place behind Tomasz Gollob in Malilla saw him leapfrog reigning champion Greg Hancock at the top of the world championship standings and I'd suggest the title is now a three horse race between those two riders and Denmark's Nicki Pedersen.
The 22,000 capacity stadium in Vojens will be packed with Pedersen supporters on Saturday night. There's always a special atmosphere there - Denmark is the spiritual home of Speedway and they'll be desperate to see their man - who currently sits third overall - keep himself in contention for the title with a good display on home soil.
The crowd, along with the top riders, will be hoping the rain - which notoriously affects this race - holds off, because they should be in for a treat on Saturday night.
Holder will be desperate to put in another solid display and, if Hancock and Pedersen slip up, he could have one hand on the trophy, with just the Torun Grand Prix to come on 6 October. However, Hancock has a fabulous record at Vojens and if he wants to retain his title he needs to make sure he delivers again in Denmark and at least reaches the final.
Unfortunately for Hancock he suffered an engine failure in Cardiff at the British GP, which cost him some valuable points, and he just didn't have the pace in Sweden. In contrast Holder's confidence is flying high, while his team and bike are working well. But American Hancock knows this track well and will be hoping he can turn things round.
As well as the fight for the title at the top of the standings, this is another important round for those riders battling it out for that crucial eighth place. The top eight in the world championship standings at the end of the season are guaranteed a spot in next season's competition, while the rest of the riders must rely on getting one of four invitations from organisers or scooping one of three qualification spots through the Grand Final Qualifier in Croatia on 28 September.
With an injury affecting star attraction, Poland's Jaroslaw Hampel, you'd have to say one of those four invitation spots will be taken by him. The rest of the invites will be decided by orgainsers at the end of the season. In the meantime, the riders in seventh, eighth and ninth will be fighting tooth and nail to ensure they aren't relying on a decision or qualifying race to be involved next year.
Antonio Lindback from Sweden currently holds the precious eighth place. He has done brilliantly to turn his season around and the pressure really is on the guys below him, particularly his compatriot Andreas Jonsson, last season's runner-up, who is 15 points adrift.
Jonsson got injured in the last round and that hurt him, not just physically, but in terms of his top eight chances, too, as Lindback made the final. Without two outstanding scores in the final two rounds, last year's second overall could be relying on an invite.
Unfortunately for Britain's Chris Harris it looks as though his top eight chances have gone. He's 35 points off the automatic spots and realistically won't be able to make that up. He got off to his traditional slow start this season but, unlike in other years, hasn't been able to turn that around this time.
If track conditions had been a little bit grippier or a little trickier at times then perhaps he would have fared better. There's no question he can be outstanding but he has found his bike set up and making starts at GP level extremely difficult this year. You just can't keep giving guys a head start - that's caught up with him this season.
He would have been bitterly disappointed with his British GP performance at Cardiff where he didn't make the semis and it's been a struggle all season long. I can't see him making the top eight this year.
Last season he had some excellent performances but I fear for him now. I think the organisers may look to invite an alternative British rider next season.
Kelvin's Call:
Nicki Pedersen will be desperate to give his followers something to cheer and Holder will know if he can hold his nerve he could take a vital lead into the final round. However, I'm going to go for a Hancock win. That will set up a dramatic finale in Poland, which is just what Speedway fans love!