Niels on wheels
Niels Kristian Iversen will have a massive impact on the rest of King's Lynn's season, says Kelvin Tatum.
Last Updated: 20/07/12 2:13pm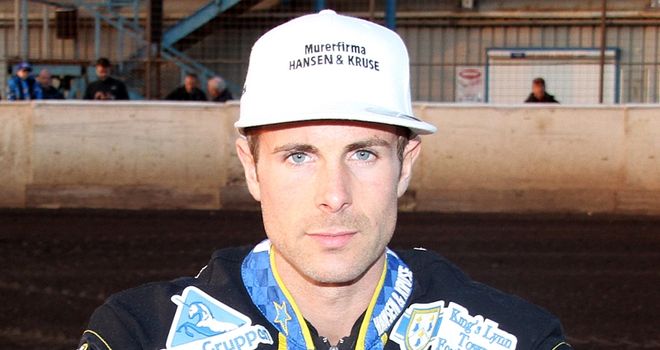 King's Lynn got a very creditable draw at Swindon on Thursday night and will be looking to record a victory in Monday's return meet.
The Stars sit fifth in the Elite League table but fourth place is definitely up for grabs and, if they can generate some momentum, I think the Norfolk side can take it.
King's Lynn are marshalled on the track by the in-form Niels Kristian Iversen, who was Denmark's joint-top points scorer in their World Cup triumph last weekend.
I was unsure whether Iversen was the right man to lead the Stars; he wasn't that convincing at Peterborough, while his stint with Wolverhampton wasn't laden with success either, but, at 30-years-old, he seems to have come of age.
He was outstanding in the World Cup and he's effectively five rides away from being a fully-fledged Grand Prix biker again. The Dane is supremely confident at the moment and that should rub off onto his teammates.
Iversen - who claimed 12 points against Swindon on Thursday evening - is backed up by highly-rated Pole Maciej Janowski. The 20-year-old doesn't set the world alight every week but we saw glimpses of form in the World Cup and he is beginning to find his feet.
The Stars have made a change at reserve, though, with Ulrich Ostergaard replacing Joe Screen. The Dane has experience at Elite League and Premier League level and could do a decent job for the play-off chasers.
Standard
Swindon manager Alun Rossiter said his side had bike issues during Thursday's 45-45 draw at Abbey Stadium and that probably explains why the team were denied victory on a track they generally dominate on.
However, the Robins - who sit second in the Elite League - could also have been a bit rusty, with the foul weather we have experienced not allowing a sustained string of meets to take place.
Hans Andersen has done well for Swindon and will play a pivotal role against King's Lynn; you need your number-one rider to set the standard for the other guys and psychologically when you see your teammate win the first race it sets the tone for the night.
Troy Batchelor, too, will also be hoping to deliver a strong performance after being left out of Australia's line-up for the World Cup Final.
He can't have too many complaints about being dropped for Darcy Ward, who is one of the best young talents in the world, but, with the benefit of hindsight, perhaps he could have ridden instead of Davey Watt.
Batchelor had a slow start to the season but he seems to be getting back into form, and he may score a load of points on Monday around a track that usually produces some really fast and exciting racing.
Swindon will be smarting from dropping home points to the Stars and will be out for revenge on Monday - but I'll still tip King's Lynn to record a narrow home win.