Danes to Nick it?
Kelvin Tatum says Nicki Pedersen's big-race nous can guide Denmark into the Speedway World Cup Final.
Last Updated: 10/07/12 5:20pm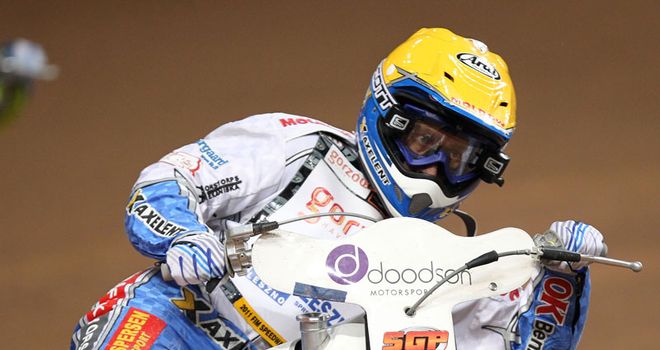 Poland will be smarting from not securing automatic qualification for the Speedway World Cup Final.
The three-time reigning champions were edged out by Russia in their heat on Saturday night and will need to win Thursday's race-off to secure a spot in this weekend's showpiece in Sweden.
Poland underperformed badly in their homeland, with Grzegorz Walasek particularly out-of sorts; he had a crash, an engine failure and was booed by the Bydgoszcz crowd.
However, Walasek won't be able to redeem himself in the race-off after being replaced in the four-man line-up by Krzysztof Buczkowski.
Buczkowski's introduction is a bit of a surprise because most people expected Krzysztof Kasprzak to come in but evidently there is some sort of political reason why he is not riding.
I'm not sure Buczkowski is much of step up on Walasek and it seems pretty harsh on Grzegorz, who has been pretty consistent this year, and if he had been retained for the race-off I think he would have been doubly determined to put in a big performance.
Underdogs
The Poles crave success and under manager Marek Cieslak have been used to it.
They can point to the injuries to Jaroslaw Hampel, who has been terrific in the World Cup over recent seasons, and Janusz Ko³odziej as to why they are not in top form but it would be a big shock if they didn't make the final.
Great Britain, meanwhile, just missed out on first place in Monday's second heat as they were pipped by Australia late on in King's Lynn.
Neil Middleditch's team did themselves proud. They were underdogs going into the meeting but took it by the scruff of the neck, winning five of the first six races and put a huge amount of pressure on the Aussies.
I can't fault Britain's effort and their performance was fantastic. Engine failures for Tai Woffinden and Chris Harris, in the end, cost the team, although a couple of last-placed finishes didn't help either.
I don't think Britain will find is as easy in Malilla as they did at home. King's Lynn has become a happy hunting ground; they ride well there and have a partisan crowd cheering them on. I'd love to think they can be as effective in Sweden but I have my doubts.
That said, a similar performance to Monday's and Britain won't be far off making the final. Daniel King, who only collected five points in King's Lynn, will need to up his game as there is no way you can carry a rider in the race-off, but Britain's spirit will serve them well.
Journeyman
The vastly experienced Nicki Pedersen missed the heat for Denmark but he will return for the race-off, taking the place of 17-year-old Mikkel B. Jensen.
Jensen performed admirably in Bydgoszcz but it is hard to keep a three-time World Champion and Grand Prix star out and Pedersen's nous could prove key.
Czech Republic make up the race-off quartet and will be looking for another strong performance from Ales Dryml, who notched 15 points in Monday's heat.
Dryml is a bit of a speedway journeyman as he doesn't always start seasons with teams but then gets picked up and does a decent job. He has never really been a number one in a team but he has got plenty of experience on the international stage.
The Czechs' hopes will rely on Dryml and his brother Lukas, who is also very capable, but I would class them as the rank outsiders to get through the race-off.
The victors of Thursday's event will take massive confidence into the final as it is being held at the same venue as the race-off.
The winning team will have gained valuable time at the arena, getting to grips with the nuances of the circuit and what sort of bike set-up you need to get around it.
KELVIN'S CALL: I'm going to tip Denmark to make the final. They were very close to winning their heat in Bydgoszcz and with Pedersen back they look to have a very strong rider line-up.