Rain's a pain
The weather is playing havoc with the Speedway season but Lakeside can shine on Monday, says Kelvin.
Last Updated: 15/06/12 12:23pm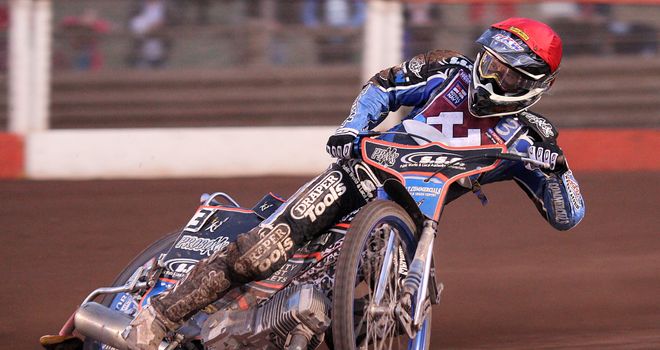 We're in June but the weather continues to play havoc with the Speedway season.
Second and third place in the Elite League go head-to-head live on Sky Sports on Monday night at Lakeside - assuming there's a break in the rain!
Swindon and Lakeside both had their Wednesday night fixtures cancelled because of the weather and will be hoping this crucial clash gets the go-ahead.
The weather has been really frustrating this season for the Elite League teams. With the awful weather running through April, May and June a lot of riders have found themselves flying in from Poland or Sweden only to be told they're not riding that night.
At least the international riders have been getting some track time on the continent - it's been far worse for the domestic riders who have sometimes had up to two weeks without a race, which is far from ideal.
It means there's no continuity, it affects riders' confidence and stops them from getting into a rhythm and the flow of the season.
Pirates on top
But it's the same for everyone and Poole Pirates have sailed through the storms better than anyone else. They're top of the league and undefeated this season. Both Lakeside and Swindon will be desperate for points on Monday to stay in touch with the high-flying Pirates.
They've both been on a pretty good run and had a strong start to the season. Lakeside of course tragically lost their captain Lee Richardson a few weeks ago. They will be looking to key men Davey Watt, who is on loan from Poole, and Peter Karlsson to perform for them on Monday. They've been going great guns. Robert Mear is a young Brit who's down in reserve has been going well for them too.
Meanwhile, Hans Anderson continues to lead the way for Swindon. Young Dane Peter Kildemand, in his first full season, has been quite a revelation and it will be interesting to see how he goes. Troy Batchelor is also in their team and although the young Australian hasn't found top form this year he's got lots of quality. You'd certainly expect that trio to be capable of getting plenty of points on Monday.
Lakeside have already been beaten at home this season by Poole and they don't want to be beaten by Swindon. Home form is vital if you want to make the top four and the play-offs.
Swindon will be going there to win, of course, but they'll at least want to lose by less than six to pick up at least one league point and go away with something.
I'm predicting a home win. It's a technical, tight track at Lakeside and there's no question it gives the hosts a home advantage. But I also sense Swindon are more than capable of picking up something.