Holding off Poole
Kelvin Tatum says that Peterborough have to come up with a way of stopping Poole's dynamic duo.
Last Updated: 23/05/12 1:14pm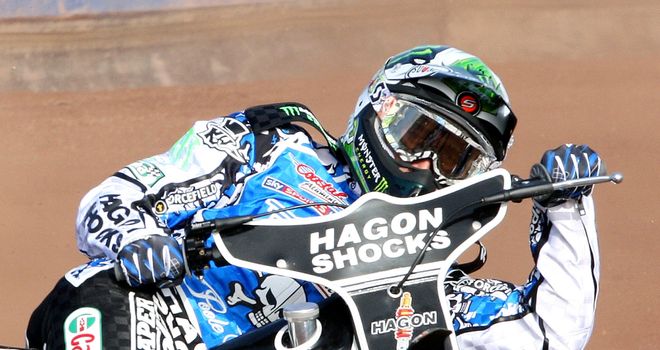 Peterborough are not a bad looking team but they have had a few problems which has affected their form.
Obviously they have Kenneth Bjerre back after a year on loan with Kings Lynn. He is a top performer but he has had a slow start to the year - but he is not the only rider to have had a slow start this season.
Like a lot of teams they have seen their meets interrupted by the poor weather which has ruined league programs across the board. However with the sun out the track preparations should be back to normal on Wednesday night.
As regards to the Peterborough team, well on paper the team should be good but they have not hit form yet. I like the look of Michael Jepsen Jensen who has been doing rather well. He tops the averages for them at the moment and for a youngster that is pretty impressive.
They also have the likes of Jesper Monberg down in reserve, who is a very experienced ride. They will miss Olly Allen if he cannot recover from his rib injury - he is a bit injury prone but is a good solid rider in the league and it will be interesting to see what Peterborough decide to do if he is not fit.
The Panthers are going to have to be at their very best because Poole are a great side led by Darcy Ward and Chris Holder - the dynamic duo. They look great and they have plenty of support with the likes of Dennis Anderson and Adrian Miedzinski who is really beginning to find his feet.
Sam Masters, who rides with Somerset and doubles up with the pirates, is a young Australian rider who has plenty of potential and could play a big part in this meet.
Peterborough have to try and keep Ward and Holder quiet, but that is easier said than done as they are in terrific form. But if they can get off to a good start - keep the pressure on right from the first race, then who knows.
The Panthers do have quality and race winners in their team. Monberg at reserve could play a key part and he could take seven rides and be influential on the outcome of the meeting.
Kelvins Call: I think Poole could win by ten points. Peterborough would be delighted to keep the margin to less than six and go away with a league point; however I could see the pirates picking up all the points on Wednesday night.