Title contenders
Poole host Swindon in the Elite League on Monday in a potential Grand Final dress rehearsal, says Kelvin.
Last Updated: 07/05/12 9:13am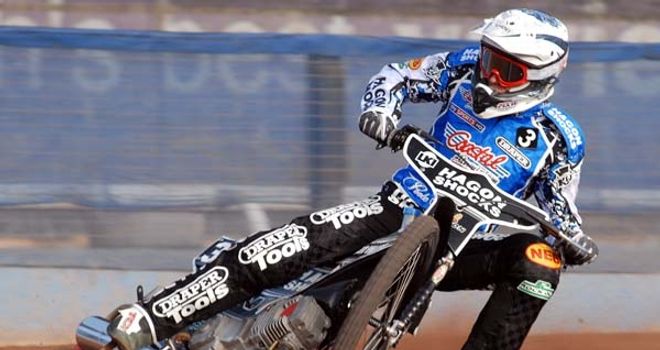 Poole host Swindon in the Elite League live on Sky Sports this Monday in a match-up which could be this season's grand final.
I know sides like current league leaders Lakeside will have something to say about that but Swindon and Poole are two top teams with talented riders.
Home side Poole will face their sternest test of the season at Poole Park when Swindon come to town. The Robins totally revamped their side during the close season, only retaining Simon Stead from the 2011 squad which had such a disappointing campaign last year.
They now have plenty of strength in depth and started 2012 in fine fahsion. With Hans Anderson leading way at the front they're looking good and they've really got quality in the side now.
With the arrival of a lot of new faces people suggested they would take time to gel and develop team spirit but Speedway by and large is an individual sport and the bottom line is they've got good riders riding well and, vitally, they've got off to a good start.
Dynamic duo
The Pirates aren't in bad shape either, though. Chris Holder and Darcy Ward are of course the stand out performers for Poole. They're a fantastic pairing. Holder won the GP in Poland last time out and is on top form, while Darcy tops the averages in the UK so he's riding well too.
But that pair have also got good support from Dennis Andersson, a young Swedish rider making his way, and Pole Adrian Miedzinski, who used to ride for Swindon. Miedzinski is a rider I've picked out and he'll surely be fired up to show the Robins what he can do with his new side at Poole Stadium.
The track at Poole is a good one - not too big and not too small. It's a proper Speedway track. It can be a little bit slick and patchy sometimes - hard and slick on the inside with a lot of grip on the outside - and that presents challenges for getting right set up on bike.
And the riders' cause hasn't been helped by the amount of rain we've had recently. Weather like we've had is obviously the nemesis of everybody. When you've got so much rain tracks become water logged. Normally at this time of year tracks are drying out and get hard but after the rainfall in April that hasn't happened so conditions are slightly out of whack. They are almost early season conditions out there with stickier surfaces. This presents challenges to riders where you've got to be technically right on top of your game. You can't be complacent on the track - you've got to be really thinking and focused.
Kelvin's call
The Pirates have had a strong start to the season and they are racing on the back of a good away win to Wolverhampton. I think they will win - but I expect them to only get two points and Swindon will get beaten by less than six and go away with a league point. Either way it should be entertaining one for Speedway fans between two of the Elite League's top teams.