Hancock hops home
The consistent Greg Hancock bagged his second world title in style, says Kelvin Tatum.
Last Updated: 29/09/11 2:00pm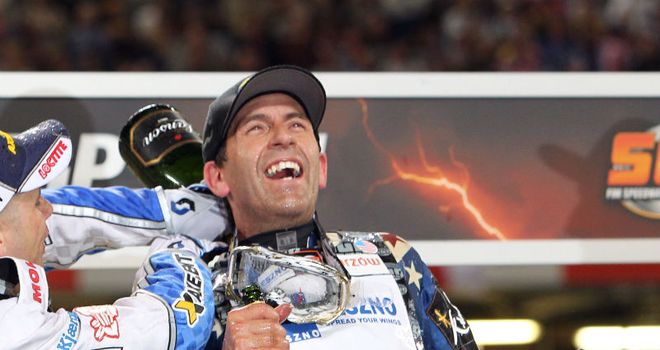 The celebrations began for Greg Hancock in Croatia as he clinched a second World Championship with a fourth-place finish at Gorica.
The 41-year-old American fought a knee ligament injury to produce a stylish performance - becoming the oldest world champion in history with 15 points that ended hope of his rivals keeping the title race alive.
Hancock's consistency this year has been absolutely brilliant and his main challengers for the title have fallen away over the last couple of rounds. That's not to say he's been handed it, but I would suggest the pressure he's applied on his rivals to keep winning races has finally seen them crack.
From that point of view, he's done marvellously well and he fully deserves everything he's got.
Back down the standings, three-time world champion Nicki Pedersen is really under pressure to make the top 10. He didn't have a very good meeting in Croatia and it was another tough round for him.
Apart from winning the first round this year when it all looked rosy, he hasn't done that well since, if the truth be known. It's difficult to pinpoint why, because over the last couple of years he hasn't performed nearly as well as he did when he was champion in 07/08.
Struggling
It's a tall order for him. He's now 16 points outside the top 10 and it's starting to look like he's going to have to rely on the authorities handing him a wildcard for next season's competition.
I don't think it's a question of hunger with Nicki. He always seems very fired-up and motivated - it's just that things aren't working out for him. I can't say why because when he was world champion back-to-back and clinched his third, at that stage nobody could beat him off the start. He was incredible.
He hasn't been able to reproduce that kind of form but if he could, I don't see any reason why he can't be a threat again. Right now he's struggling but he's still box office. Quite often he's the bad boy of the team and he can be a villain at times but people still want to go and see him race, so I think there's a chance of him picking up a wild card.
Top form
In terms of the race for second place, I expect Andreas Jonsson to hold off Jaroslaw Hampel and take the silver.
I know the final Grand Prix is in Poland and Hampel will be inspired by the home support, but Jonsson's won three Grands Prix in the second half of the year. In actual fact, if the series had started after the summer break he'd be leading! He's the form rider.
He's been winning Grands Prix in the past but he's never been able to put a run of results together. Certainly, the second half of the season has seen those wins and a second. He should hang onto second place.