Pirates on fire
Kelvin Tatum looks back on two thrilling Elite League semi-finals and ahead to the big one!
Last Updated: 03/10/11 11:44am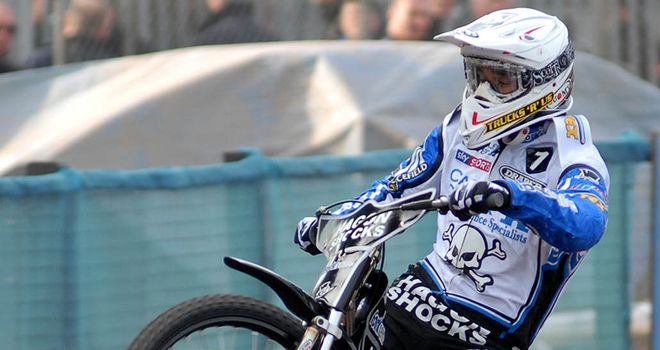 Poole were in sparkling form in thrashing King's Lynn 63-27 to reach the Elite League play-off final. They started as they meant to go on with a 5-1 victory and really didn't look back afterwards.
Darcy Ward and Chris Holder were fantastic, Dennis Andersson was great and Thomas H Jonasson was much, much better than he was in the first leg at King's Lynn. The home fans and home management were delighted and that was exactly the performance they were looking for.
Ward is overshadowing Holder a little bit. Holder is piling the points on but Ward just seems to be doing it in a fashion that gets everyone on the edge of their seats. He's a real crowd favourite.
King's Lynn's tactical rides didn't work out - they were backed into a corner when they went 10 points down the first time because it wasn't obvious from the upcoming races when they should use them. To be honest, they should be disappointed with their top men.
Poor
Kenneth Bjerre and Niels Kristian Iversen, their top two stars, will be disappointed with their performances. Bjerre scored three points on the night, which is not enough from one of your top men.
When you watch the replay of Ward and Holder zipping past him on the last corner of the 13th heat, he was pushed wide by Ward and backed off the throttle to allow Holder through as well. It sent the place bananas! Bjerre is a world class rider and you expect more from him.
Poole's opponents in the final will be Eastbourne, who overcame several nervy moments to take an 99-86 aggregate victory over Lakeside with a 53-39 home win.
That clash was a much tighter affair with Lakeside giving a good account of themselves. The visitors put pressure on and late in the meeting it could have got very, very nervous for the home team. If Heat 13 hadn't worked out as it did with Bjarne Pedersen coming through, there could have been real drama.
Lakeside did a good job on the night and kept the home team very honest up until the very last few races. If I had to single out a rider for Eastbourne, obviously Cameron Woodward has had a terrific run of late but Pedersen, who started slowly, provided the key to their victory late on.
Showdown
I think Eastbourne will win the first leg of the final at Arlington on Monday. Apart from one blip in the Knockout Cup, they've won comfortably against Poole before. They'll have to be a little bit better than they were against Lakeside and they can't afford to relax because the Pirates have got riders who can hurt anyone.
Poole have struggled at Arlington this year, so the stats would suggest Eastbourne should win. They need to win by about 10 points if they want to have a go at winning the title.
I think Poole will be favourites at home even though Eastbourne got within two points of them. I expect both teams to win at home over the two legs and for it to come down to how tight it is over the two clashes.
Neil Middleditch and his Pirates team will be delighted if they come away from Eastbourne with a six-point deficit or less.
On the evidence of the semi-finals, I would say Poole are favourites to take the title. I would think their captain Davey Watt will be back and when you've got the inspriational riders of Ward and Holder backed up by Andersson and Jonasson they are very powerful right now.
The way they rode on Monday night, it's tough to see anyone beating them. Having said that, anything can happen!