Hancock so close
Greg Hancock should wrap up a second world title in Croatia on Saturday, says Kelvin Tatum.
Last Updated: 22/09/11 4:10pm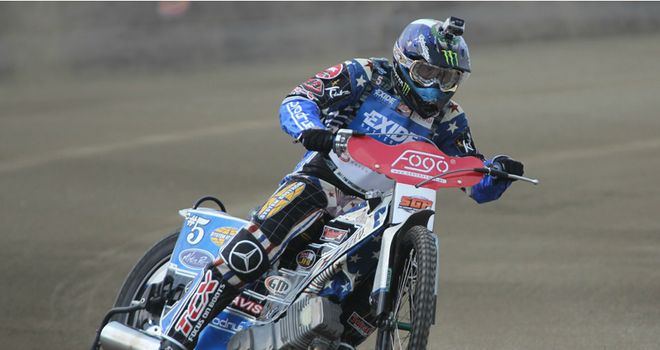 The Speedway World Championships roll into Croatia on Saturday with Greg Hancock within touching distance of a second world title.
With the track at Gorican a favourite with the 41-year-old American, Jaroslaw Hampel and Andreas Jonsson have their work cut out if they are to postpone his coronation. I see Hancock wrapping it up this weekend. He's got a 31-point lead and he might not necessarily need to extend it.
Hampel and Jonsson both slipped up in Denmark last time out and if that happens again, there's a good chance Hancock can be crowned champion on Saturday. Jason Crump can mathematically still catch him but realistically the threat will come from Hampel or Jonsson. Having said that, there's no doubt Hancock is firmly in the driving seat.
Tricky
I never got the chance to ride at Gorican. It's a young track and has only been around a few years. It can be tricky as it's got a loose, sandy type of surface and last year we saw when it rained on the Saturday it got quite difficult when the race was restaged on the Sunday. The track was kind of like a moving target - every lap it would sort of rut up a bit.
We have to remember that Hancock won here last year so he'll have fond memories of it. It's always nice to go back to a track where you've been successful and the shape and size of the track suits his racing style. I don't see any reason why he should fear the venue even though he'll have a few butterflies in his stomach because to actually finally seal the deal, you've got to get over the line.
The hard work is done for Hancock. He had a couple of wobbles straight after the summer break. The first couple of Grands Prix he wasn't quite at his best but winning and winning in style like he did two weeks ago at Vojens was brilliant. He's got one hand on the trophy.
Dangers
With regards to the wildcard, Matej Zagar is a quality rider and has had several wildcards. He's been a full-time Grand Prix rider a couple of seasons back and was pretty good in Italy earlier this season as a wildcard. He's a rider that, certainly on his night, could surprise a few.
It's not just about the championship and the first three at the moment - there's a big scrap going on for the top eight. Three-time world champion Nicky Pedersen is outside the top eight and 10 points behind his compatriot Kenneth Bjerre. Pedersen needs two big, big performances if he's going to secure his Grand Prix future. He may well have to rely on a wildcard pick.
It's a tough one because Bjerre's fast and in good form. Pedersen has struggled over the last couple of seasons and it's a bit of a long shot. He almost needs Bjerre to slip up to make up that 10 points difference so he's under a lot of pressure.