Pedersen for Pearson
Nigel Pearson thinks Danish star Nicki Pedersen is set to beat Chris Holder to the world title.
Last Updated: 24/09/12 3:27pm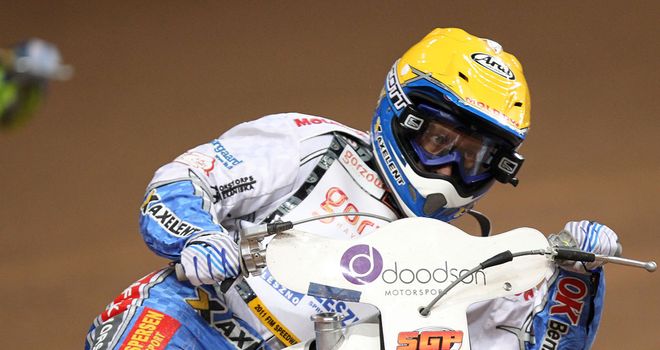 It's Nicki Pedersen for me... let's get the prediction out of the way first!
Whilst I didn't like Nicki's antics in Malilla when he let passion and anger get to him in front of a TV camera - which could have been described as intrusive - I am full of admiration for the man as a professional.
Not only is he a Speedway rider, but he is an athlete. Catch Nicki on a day off at his UK base and he's not out partying, he's down the gym and talking to his team about mechanical set-ups.
During the winter he takes a family break, but equally important is his approach to sponsors, his weight management, his general fitness and back-up team.
Shootout
So it's a straight shootout between Nicki and young Chris Holder for me in Torun on October 6. And I don't know about you, but I can't wait!
Chris leads the title by two-points from Nicki with reigning champion Greg Hancock 10 behind which, sadly, I believe is a step too far to retain the crown.
Holder will be on his home Polish circuit, but that can work either way - pressure of home fans may work against him, or it may spur him to glory.
He's improved as a rider this season and I've also noticed a much more serious attitude to his racing. He likes to have fun, but this is a serious business.
But Nicki has been there with three world titles to his name. He's also got the momentum of a fantastic display in Vojens where, although he didn't win the meeting, he was top scorer with 20 points.
Chris Holder may thank me for this prediction and I will be delighted to admit I'm wrong should that be the case!
What a series it's been ... and it promises to get even better! Starting in New Zealand back in March, nine different winners in 11 rounds and the emergence of younger stars like Lindback, Vaculik and Jepsen Jensen.
Ward
Then there's the Darcy Ward factor. Will he be invited next year? And who will qualify from this Saturday's GP Challenge in Gorican?
Yes, SGP 2013 promises to be something special. Sadly it will be without Jason Crump who has called time on his World Championship career and I sincerely hope he gets a standing ovation from the sell-out Torun crowd.