The legend returns
Nigel Pearson looks at the chance to see ex-World champ Jan O. Pedersen take to the track again.
By Nigel Pearson
Last Updated: 25/07/11 3:37pm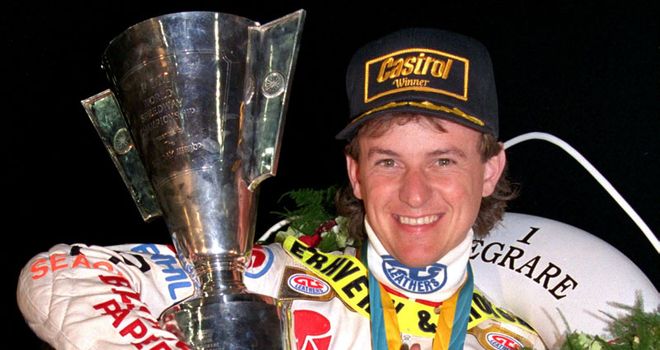 It could be one of the most amazing comeback stories in the sport's history... but only time will tell.
Jan O Pedersen, aged 48, will celebrate the 20th anniversary of his 1991 world title glory by facing Sky Sports pundit and 1993 world champion Sam Ermolenko in a series of match races at Wolverhampton on Tuesday night as part of the Golden Hammer individual meeting.
And Pedersen insists this is no demonstration, no exhibition. He desperately craves a return to the sport after unfinished business way back in 1992 after suffering a broken back.
He's bought a bike from triple world champion Nicki Pedersen (no relation) and has had some practice laps in Poland and Denmark.
But they were behind closed doors. Now, in front of his adoring West Midlands public thanks to his time with the old Cradley Heath club, Jan O will go head to head with Ermolenko.
I have often said to Sam that he could easily have dropped down to the Premier League and carried on racing for a couple more years. I saw him race in Adam Skornicki's Testimonial at Wolves in March and he looked excellent.
Pride
Typical of the man and his pride, he told me he never wanted to drop a level, he wanted to end his career at the top. Fair play.
But for Jan O, there is clearly something niggling away at him. I believe he wants to have the final say on his career and it wouldn't surprise me to see him riding in England next season for a Premier League club.
He's still fit, he can still ride the bike and he will provide fantastic entertainment. However, there is always a risk with Speedway and Jan O, a truly nice guy, knows that more than most.
I sincerely hope he doesn't get hurt because, as Sam can confirm, the older you get the longer the injuries take to recover!
That said, I'm really looking forward to Tuesday night at Wolverhampton and I can't wait to see Jan O and Sam back on their machines. Bring it on.