Revving up the season
Kelvin Tatum is expecting a close encounter when two of the best teams clash in the Elite League.
By Kelvin Tatum
Last Updated: 05/04/11 8:14am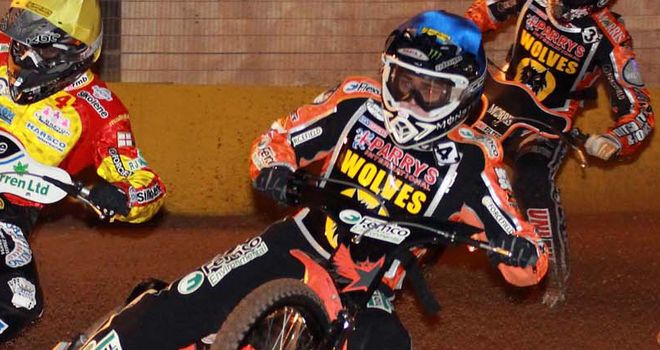 Wolverhampton will be boosted with the news that their veteran captain Peter Karlsson is back.
There is no question that he has a massive positive impact on the team. Wolves have started pretty well and they have a pretty solid top five with Freddie Lindgren, Tai Woffinden, Karlsson and Ty Proctor.
They may be slightly weak at reserve where they have two American lads in Ricky Wells and Tyson Burmeister. I am not quite sure who rides for them on Monday but if one of them can start scoring some points then they will be hard to beat - especially at home.
I have not seen Burmeister in action yet but I have seen Wells ride before - he certainly has found it difficult at times in the elite League. Wolves will be keeping their fingers crossed that he can build on his experience and start scoring some more points for them. A high scoring reserve is always a big plus.
Poole have had some issues right at the beginning but looked pretty impressive last week. They showed why they are favourites for the league in my opinion.
I thought Jason Doyle who came in as a late replacement did extremely well. With the news that Rafal Dobrucki has been removed from their starting line-up due to the ongoing row over silencers, Doyle now gets his starting place.
Chris Holder also looks like he is beginning to find his feet and they also have a young lad down in reserve called Denis Andersson who has been scoring very well. He is definitely one to keep an out for.
The track is always beautifully prepared at Wolverhampton and we always see some fantastic racing there. It is a technical track but it is a fast track, I love going there and we always see some super stuff so let's hope it does not rain.
Kelvin's Call
This is going to be a great match-up and should be close. I would like to see Tai Woffinden do well on Monday night. He had a difficult year last year and seemed to lose his confidence. He is trying to enjoy his racing again and has slightly less pressure on him now. I would like to think that he will show some really good form for wolves. He is English of course so I also want to see some young English riders doing well.