Elite League Speedway: Peterborough hammer woeful Coventry
Last Updated: August 23, 2013 10:27pm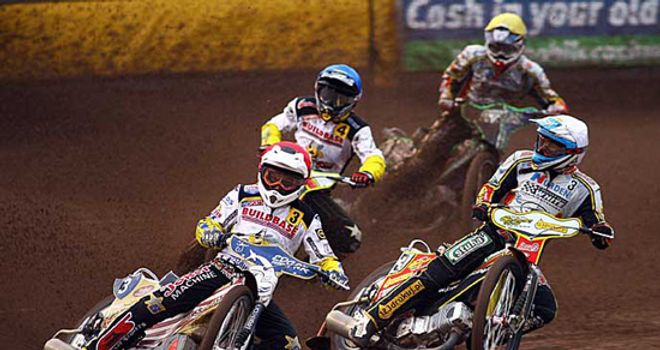 Ryan Fisher: Top scored in Peterborough romp
Peterborough recorded the biggest victory of the Elite League season as they hammered Coventry 70-20.
The Panthers won every single race at the East of England Showground, as four of their riders were undefeated by an opponent.
Results and scorers:
LAKESIDE 50
Peter Karlsson 11+2, Piotr Swiderski 11+1, Richard Lawson 10+1, Lewis Bridger 9+1, Davey Watt 8, Kevin Doolan 1, Sebastian Ulamek R/R
POOLE 43
Darcy Ward 17, Greg Hancock 8+1, Adam Skornicki 7, Kyle Howarth 6, Timo Lahti 5, Micky Dyer 0, Rohan Tungate R/R
-------------------
PETERBOROUGH 70
nRyan Fisher 14+4, Patrick Hougaard 14+1, Chris Harris 13, Krzysztof Buczkowski 10+2, Joonas Kylmakorpi 10+2, Dakota North 9+2, Norbert Kosciuch R/R
COVENTRY 20
Aaron Summers 6, Kozza Smith 4, Krzysztof Kasprzak 3, Grzegorz Zengota 2+1, Michal Szczepaniak 2, Scott Nicholls 2, Stuart Robson 1
Ryan Fisher top scored with paid 18, but the only rider not hit double figures was Dakota North and he still scored 9+2.
On a hugely embarrassing evening for Coventry, their top scorer was Aaron Summers with just five. GP star Krzysztof Kasprzak and British star Scott Nicholls scored five between them.
It is Peterborough's largest ever win in the Elite League, but their hopes of reaching the play-offs look over after Lakeside Hammers look firm favourites of landing fourth place after they defeated Poole Pirates 50-43.
Lakeside are now six points head of Poole in fifth, and further two points clear of Peterborough.
Lakeside were led home by their ever reliable number one Peter Karlsson with paid 13, but they were solid throughout with Piotr Swiderski (11+1) and Richard Lawson (10+1) also hitting double figures.
Poole had looked as if they would take something from the meeting as they closed to within three points with two races left, but a 5-1 in heat 14 and a 3-3 in the final race saw them go home empty handed - despite the efforts of Darcy Ward who scored brilliantly with 17.