Elite League Speedway: Peterborough charge continues with win at Poole
Last Updated: 15/08/13 11:55am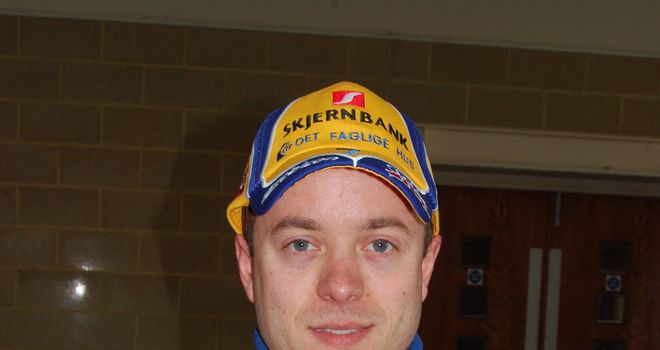 Kenneth Bjerre: Led Peterborough to big win
Peterborough Panthers' unlikely play-off charge continued with a brilliant 51-39 win at Poole Pirates.
The Panthers, who have spent most of the campaign on the bottom, climbed to seventh in the table after taking maximum points at Wimborne Road.
Result and scorers:
POOLE 39
Micky Dyer 8+1, Greg Hancock 8, Tomas H Jonasson 7+1, Darcy Ward 6+1, Maciej Janowski 4+1, Rohan Tungate 4, Kyle Howarth 2
PETERBOROUGH 51
Kenneth Bjerre 14+1, Joonas Kylmakorpi 9+1, Patrick Hougaard 7+2, Ryan Fisher 6+1, Dakota North 6+1, Krzysztof Buczkowski 5+1, Norbert Kosciuch 4
Indeed it was a blow to Poole's own chances of staking a top-four place as they never recovered from a disastrous start which saw them concede 5-1s in the opening two heats.
Not a single Poole rider managed double figures with reserve Micky Dyer top-scoring with paid 9 - whilst number Darcy Ward went the whole meeting without a win. New signing Greg Hancock could also claim just 8 points.
Peterborough were led home by an excellent display from Kenneth Bjerre who claimed a paid maximum.
Panthers boss Trevor Swales said: "The most pleasing thing about the performance was that every single rider chipped in with good rides, and the team spirit is absolutely amazing now.
"I know we shouldn't get too carried away, but with team spirit like that you can't not win! It's so buoyant at all times and they are all helping each other and geeing one another along. We did it without Ryan (Sullivan) tonight but it just shows what he's pushed into the team, and the riders are so motivated
"We were gating well, which obviously helped, but we weren't just out-gating them - we were hustling them into and around the first turn, and they weren't used to that. They are used to people giving up in the first turn, and we didn't do that.
"It could even have been a bigger win, but it's got to go down as one of our best away performances for some time.
"I think some of the other teams will be getting very nervous about the run we're on now, and they'll probably start to respect us a bit more as well. I certainly wouldn't rule out our chances."