Elite League Speedway: Birmingham hammer Eagles
Last Updated: 09/05/13 1:43pm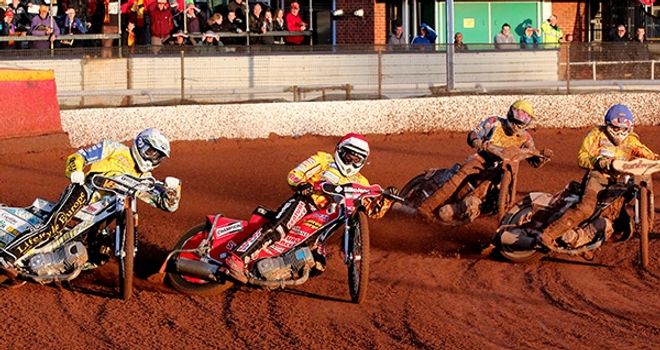 Birmingham Brummies: Sweeping to victory over Eastbourne (Pic credit Aaron Lupton)
Birmingham Brummies maintained their good start to the new season with a thumping 62-31 win over Eastbourne.
Indeed apart from Chris Harris's retirement in the first heat - Birmingham did not card a last place in the meeting.
Score and scorers:
BIRMINGHAM 62
Martin Smolinski 14+1, Danny King 14, Jason Doyle 8+2, Nico Covatti 7+3, Ben Barker 7+2, Chris Harris 7, Josh Auty 5+2
EASTBOURNE 31
Bjarne Pedersen 15, Denis Gizatulin 5, Cameron Heeps 4, Simon Gustaffson 3, Cameron Woodward 3, Timo Lahti 1
--------------------
POOLE 45
Chris Holder 14, Maciej Janowski 8, Kyle Howarth 6+2, Hans Andersen 6+1, Rohan Tungate 5+1, Dawid Stachyra 4+1, Dennis Andersson 2+1n
LAKESIDE 48
Davey Watt 15+1, Peter Karlsson 13+1, Kim Nilsson 6, Piotr Swiderski 5, Lewis Bridger 5+2, Richard Lawson 4+1, Robert Mear 0
On a night to forget for Eastbourne, they were limited to just four heat wins all evening.
German reserve Martin Smolinski continued his wonderful form with a paid maximum, whilst captain Danny King provided very good back-up for 14 - but with Birmingham's lowest scorer getting paid 7 - there were few negatives for the Second City outfit.
Team bosss Phil Morris was delighted and said: "Every single member of the team either won a race or was paid for a win, 7 5-1's made a brilliant evening and I'm sure all the Brummies fans will have gone home delighted."
Former Birmingham rider Bjarne Pedersen provided some stern opposition as he came home with 15 points including a tactical win, but there was little else on show for the Eagles.
Meanwhile, back on the South Coast and Poole Pirates suffered another shock defeat, this time with Lakeside Hammers claiming a 48-45 success.
Poole had started well, and had a ten-point lead after six heats - but then a 7-2 inspired by former Pirate Davey Watt saw Lakeside come right back into the meeting, and a 5-1 in Heat 10 saw them go ahead, and they did not relinquish their lead.
Watt showed he was well and truly over his recent injuries as he came home with paid 16, whilst veteran Peter Karlsson was at his sparkling best with paid 14.
World Champion Chris Holder did his best with 14 for Poole, but guest Hans Andersen - standing in for Darcy Ward - could only come in with paid 7, and the home side were just not good enough.