Duo ruled out of Challenge
Lindback and Watt withdraw
Last Updated: 26/09/12 9:20pm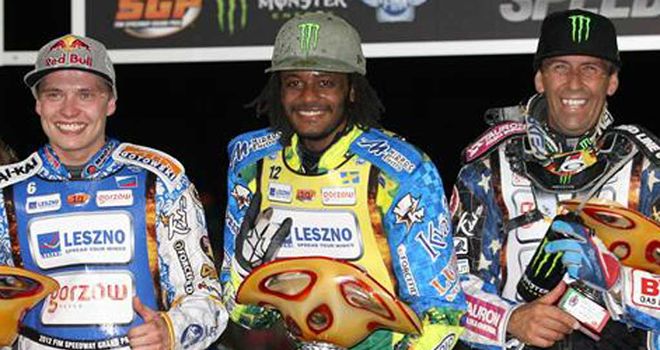 Antonio Lindback: Out of Challenge meeting
Antonio Lindback and Davey Watt have both officially withdrawn from the Grand Prix Challenge in Croatia on Saturday.
Swedish star Lindback has announced his withdrawal after he sealed a qualifying spot in the Grand Prix series.
Lindback, who won the Challenge at Vetlanda in August 2011 to retain his World Championship status, is already mathematically guaranteed a spot in the 2013 series.
Following Australian star Jason Crump's retirement from the competition, the ninth-placed rider will now take his automatic qualification berth.
And with Lindback in eighth place a mammoth 39 points clear of Hans Andersen in tenth position, the Rio Rocket is assured of his highest ever SGP finish. It will be the first time in his career he hasn't gained qualification via the Challenge or wild card routes.
He has been replaced in Gorican by Polish hotshot Krzysztof Buczkowski, who finished sixth in the SGP qualification semi-final at Divisov on June 30.
Australian international Davey Watt has also pulled out of the Challenge after being taken to hospital on Monday, suffering with complications over a kidney problem. His spot is taken by second reserve Peter Kildemand. The Dane was sixth in the Lonigo qualifier.
Mikkel B Jensen is the new first reserve, while Britain's Ben Barker is the second stand-in. They will be drafted into the field if a rider withdraws through injury, illness or other reasons.
SGP regulars Hans Andersen and Peter Ljung will contest the meeting, along with FIM Dansk Metal Nordic SGP winner Michael Jepsen Jensen.
This season's World Championship first reserve and Gorzow SGP gold medallist Martin Vaculik and in-form Dane Niels-Kristian Iversen are among the favourites, along with the likes of SGP second reserve Krzysztof Kasprzak, Matej Zagar and local boy Jurica Pavlic.
GP CHALLENGE LINE-UP: 1 Leon Madsen, 2 Krzysztof Kasprzak, 3 Krzysztof Buczkowski, 4 Martin Vaculik, 5 Martin Smolinski, 6 Peter Kildemand, 7 Troy Batchelor, 8 Michael Jepsen Jensen, 9 Peter Ljung, 10 Matej Zagar, 11 Niels-Kristian Iversen, 12 Hans Andersen, 13 Ales Dryml, 14 Grzegorz Walasek, 15 Jurica Pavlic, 16 Adrian Miedzinski. R1 Mikkel B Jensen, R2 Ben Barker.