Thrilling Gollob back to best
Polish ace wins his first GP of season, Holder heads the standings
Last Updated: 09/09/12 12:30am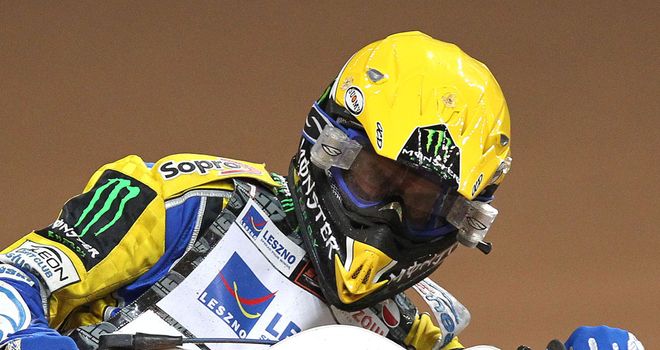 Tomasz Gollob: Raced to victory in Sweden to move to fourth in the standings
Tomasz Gollob was back to his thrilling best as he raced to victory in the Scandinavian Grand Prix in Sweden.
The 2010 world champion got a flier from Gate 1 to post an all-the-way success in the final at the G & B Arena in Malilla.
Chris Holder took second after a battle with equally in-form Antonio Lindback, while Nicki Pedersen was unable to land a blow at the back.
The victory was Gollob's first in this year's world championships and his 22nd in total from 150 GPs, while his 21-point haul saw him jump from sixth to fourth in the overall standings.
Big winner
Holder was the other big winner on the night, earning 17 points to move to the head of the standings with 134 points with just two rounds of the championships left.
The Australian ace, who has collected a massive 40 points from the last two GPs, now leads current world champion Greg Hancock by eight points after the American could only make the semi-finals.
Pedersen is 11 points behind Holder in third, while Crump, who made the semis, is in fifth, 23 points behind.
But an excellent evening's racing was marred by a crash to home favourite Andreas Jonsson in Heat 5 after Pedersen cut across the Swede near the line.
Jonsson was taken to hospital as a precaution and missed the rest of the night's racing, while Pedersen, who voiced his disapproval at being disqualified from Heat 5, was then booed by the home support after winning Heat 11.
On a more positive note, Polish ace Jaroslaw Hampel returned to GP racing after injury and posted a creditable six points.
British rider Chris 'Bomber' Harris again failed to make the semis with a five points haul to remain in 11th in the overall standings.