Injured Aussies OK for Gorican
Holder and Crump to ride in Croatia
Last Updated: 26/07/12 5:23pm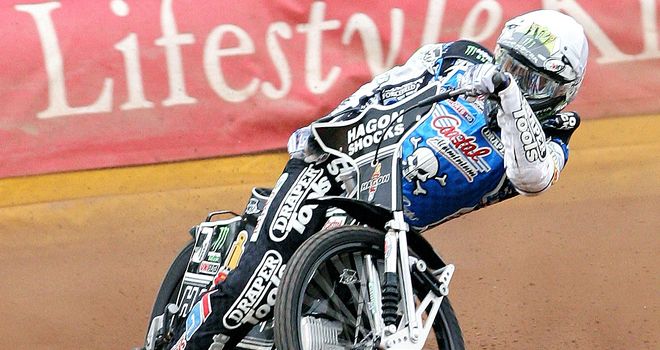 Chris Holder: Will ride in Croatia
Australian stars Chris Holder and Jason Crump have both confirmed their participation in the Croatia Grand Prix on Saturday.
Triple world champion Crump suffered a broken collarbone in a Russian league meeting at Vladivostok on Thursday - an injury which may have sidelined some riders for around three weeks.
Crump is just nine points behind SGP series leader Greg Hancock and missing the seventh round of the competition would have left his title hopes in tatters.
But Crump immediately flew to Geneva for surgery, courtesy of his main backers Red Bull. The bone was plated and, while the 36-year-old will not practice in Gorican on Friday, he intends to take part in the meeting.
The Bristol-born man said: "They operated on me at 5pm on Saturday, plated my collarbone and I was released from hospital around lunchtime on Sunday.
"I will be resting for the remainder of the week and will not practice on the Friday; I will just be observing the others and seeing how the track shapes up and then looking forward to getting a good result on Saturday night. Fingers crossed I have a bit of luck on my side."
Crump was quick to praise Red Bull and their surgeons for getting him back on track so fast after what could have been a very costly spill.
He said: "I could not have been in better hands. These guys were magic and I will definitely be riding this weekend thanks to them."
Holder
Holder's place in Croatia was in doubt after he suffered a heavy fall in Poole's win over Wolverhampton on Wednesday.
The Sydneysider got caught up in the deep dirt in race nine and was catapulted from his machine.
Observers in the pits initially feared the 24-year-old had suffered the same fate as Crump - but Holder got to his feet fairly quickly and returned to the pits complaining of chest pains and nursing a knock to his left elbow.
He did not appear in heat 12 and the four-time Aussie champion admitted he was "sore" after the tumble.
But asked whether he would be lining up at Gorican this Saturday, he defiantly replied "of course", as he bids to close the nine-point between him and series leader Greg Hancock.