British final line-up
No semi-finals after postponements
Last Updated: July 19, 2012 3:10pm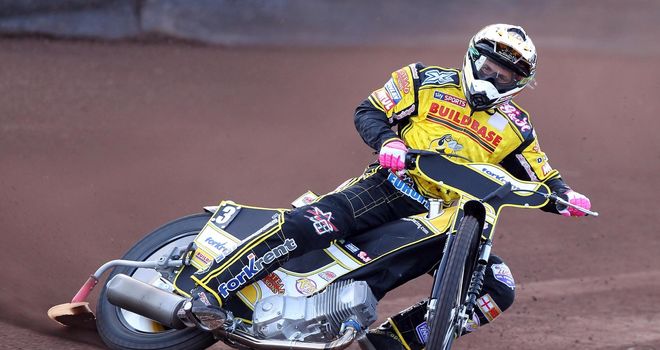 Scott Nicholls: Defending champion
The line-up for the British Championship Final at Wolverhampton on July 30 has been confirmed.
The BSPA confirmed that the semi-finals of the 2012 British Championship would not be re-staged after they were called off due to the recent wet weather.
The first semi-final that was set to be hosted by Sheffield on July 5, and the second was due to take place at Rye House on July 7 but both were waterlogged.
With no time to organise the semis again, the BSPA confirmed the final would be decided by averages.
The winner of this meeting will earn the No.16 wild card race jacket for the FIM British SGP at Cardiff's Millennium Stadium on August 25. The spot will go to the runner-up if Grand Prix regular Chris Harris triumphs.
Harris will try to regain his crown from defending champion Scott Nicholls, but Wolverhampton star Tai Woffinden starts as favourite.
Great Britain internationals Danny King, Edward Kennett and Ben Barker will be keen to land their first national title, along with the in-form Josh Auty and Adam Roynon.
BRITISH FINAL DRAW: 1 Robert Mear, 2 Edward Kennett, 3 Adam Roynon, 4 Richard Lawson, 5 Tai Woffinden, 6 Stuart Robson, 7 Danny King, 8 Scott Nicholls, 9 Ben Barker, 10 Simon Stead, 11 Craig Cook, 12 Lewis Bridger, 13 Josh Auty, 14 Ricky Ashworth, 15 Olly Allen, 16 Chris Harris. Reserves: 17 Leigh Lanham, 18 Lee Complin.