Danes to change again
Jensen on stand-by to come in
Last Updated: 13/07/12 3:22pm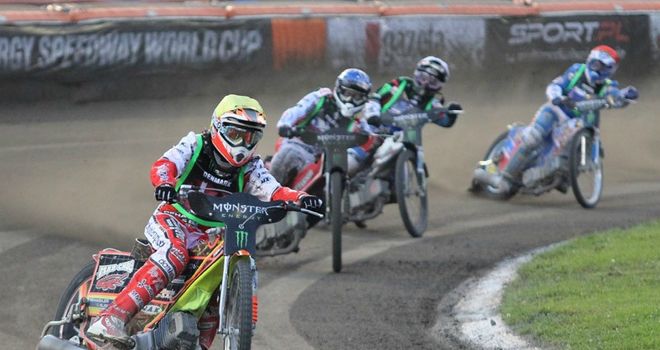 Mikkel B Jensen: Set for final role (Pic credit Fotospeedway.pl)
Denmark look set to change their side again ahead of Saturday's World Cup final with youngster Mikkel B Jensen ready to come in.
The Danes brought back former world champion Nicki Pedersen to their side for the race-off on Thursday and they romped to victory.
LIVE ON SKY SPORTS
WORLD CUP FINAL, Malilla, 14th July, 6pm - SKY SPORTS HD2
Pedersen, along with Niels Kristian Iversen and Michael Jepsen Jensen were in superb form - but Leon Madsen struggled.
Now Madsen seems set to be replaced by Jensen - who was dropped in favour of Pedersen on Thursday.
Team boss Ander Secher could also call on GP stars Hans Andersen, Bjarne Pedersen and Kenneth Bjerre - but he has said he will stick with the youngsters.
"As it looks right now, the arrow points at Mikkel B for the Final," said Secher.
"We saw Mikkel beat Tomasz Gollob at Bydgoszcz and if he is getting the gates, he is good for eight to 10 points perhaps. On a good night, he could score some good points.
"As team manager, I could gamble on either Leon or Mikkel, and I don't think Leon did that well in the Race Off. I've made the decision that I perhaps want to play Mikkel instead."
Triumph
Denmark triumphed on 42 points, pipping Poland (38), Team Great Britain (30) and the Czech Republic (19). They won six out of the first seven races and Denmark's rivals simply never recovered from this blistering start.
Secher said: "I think the boys did very well, with just one exception, so that was good. We had three boys running really well and they made the Final for the Danish team.
"I think we had a very good start and a lot of heat wins and that helped us in the end.
"We had some good gates at the beginning and end. We had a couple of heats where we were off gate three; we went down a little bit there.
"The other teams played their joker and were well paid for that. They all scored six. But even though they played the joker and we were down a little bit, we managed to get back and just kept on going."