Young Danes in confident mood
Jensen looking to make impact
Last Updated: 07/07/12 2:03pm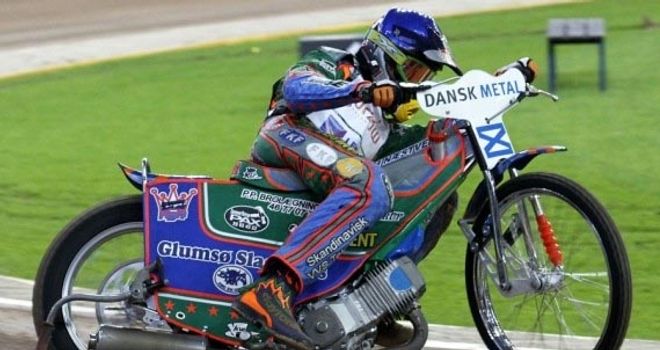 Mikkel B Jensen: Confident mood
Danish starlet Mikkel B Jensen is in confident mood as he makes his World Cup debut on Saturday in Bydgoszcz.
LIVE ON SKY SPORTS
WORLD CUP EVENT 1, Bydgoszcz, 7th July, 6pm - SKY SPORTS HD2
WORLD CUP EVENT 2, King's Lynn, 9th July, 6pm - SKY SPORTS HD2
WORLD CUP RACE-OFF, Malilla, 12th July, 6pm - SKY SPORTS HD2
WORLD CUP FINAL, Malilla, 14th July, 6pm - SKY SPORTS HD2
The 17-year-old was a somewhat surprise selection by team manager Anders Secher alongside captain Niels-Kristian Iversen and fellow newcomers Leon Madsen and Michael Jepsen Jensen.
Secher opted to rest Nicki Pedersen, Kenneth Bjerre, Hans Andersen and Bjarne Pedersen for the younger talents.
But Jensen is confident he and Denmark can make an impact in Poland.
He said: "Everyone is telling me that I'm only 17 and I have a lot of years ahead, but as I tell them, I'm young and so what? I have to beat these guys now if I want to be the best.
"It doesn't matter how old they are and what their name is; I just want to beat them.
"It's a very big opportunity. I was just happy when Anders told me I was one of the 10 he had picked. But when he told me I was in the team, I didn't know what to say. I was just speechless.
"It's a big surprise that he has picked a young team this year, but last year wasn't the best result for Denmark. Now they're trying something new and hopefully bringing the new guys on over the next couple of years.
"We're all going very well at the moment and the GP guys aren't all going as well in the GP. So it's good to give the chance to some new guys."
No fears
With both Pedersens, Bjerre and Andersen missing out, Secher has no fears about giving youth a chance.
"You can say that it is a very young team, but all the boys have shown what they are made of and what they can do," he said.
"On a good day, we can push straight up with the Poles. But we go to Poland with the sole purpose to qualify, so a second or third place would be a satisfactory result.
"When we go to Sweden, the team will be reinforced with Nicki and with a little more luck than last year, we'll make it to the podium."