Hancock ready to ride
World champion to be available
Last Updated: July 7, 2012 1:55pm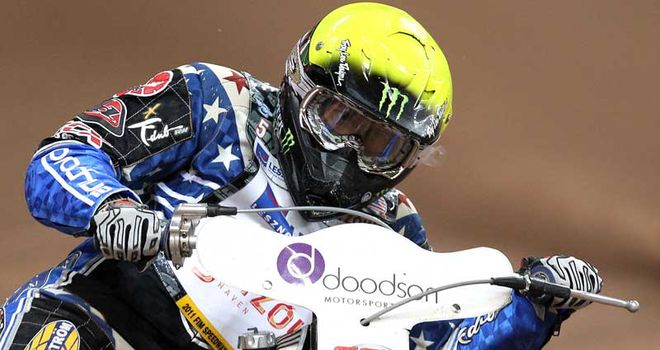 Greg Hancock: Ready to take his place
American skipper and world champion Greg Hancock is to race through the pain barrier for his country.
LIVE ON SKY SPORTS
WORLD CUP EVENT 1, Bydgoszcz, 7th July, 6pm - SKY SPORTS HD2
WORLD CUP EVENT 2, King's Lynn, 9th July, 6pm - SKY SPORTS HD2
WORLD CUP RACE-OFF, Malilla, 12th July, 6pm - SKY SPORTS HD2
WORLD CUP FINAL, Malilla, 14th July, 6pm - SKY SPORTS HD2
USA line-up in Event 1 of the FIM Monster Energy Speedway World Cup at Bydgoszcz on Saturday.
The Californian has been sidelined since sustaining damage to his collarbone and chest area when he fell following a collision with Martin Vaculik in a Danish league meeting at Holsted on June 27.
The 42-year-old may have a youthful outlook on life, but he admits he doesn't bounce as well as he used to. Ideally, the Tarnow, Piraterna and Slangerup man would like another week or two of rest before getting back in the saddle.
But with the USA taking on Poland, Russia and Denmark at the Polonia Stadium and his good friend Billy Hamill making his much-anticipated FIM Monster Energy SWC return, Herbie has no intention of sitting out the Americans' big night.
He told speedwaygp.com: "The plan is to go for it. I'll get practice in tomorrow and then I'll do the race. I have no doubts about riding and I plan to be there.
"It's feeling pretty good. I feel really sore and I'm trying to see out the recovery as quick as I can.
"I'm no spring chicken. It's definitely a little harder to recover than when I was younger. You've got to give the body time to rest sometimes, no matter how old you are, and I'm trying to do that.
"It's getting there slowly and another week or two and I'll be in good shape. But I'm determined to do this thing in Bydgoszcz."
Replacement
Hancock confirmed that they have Kenny Ingalls on stand-by to replace him in the team alongside Hamillm Ricky Wells and Ryan Fisher at the Polonia Stadium.
"We have Kenny Ingalls there," Hancock said. "He was always coming anyway. He's there as a stand-in in case something happens to any of us."
The USA's return to the FIM Monster Energy SWC after a five-year absence has been the result of a lot of hard work from the likes of Hancock and Hamill.
But Herbie says the team could not have done it without their supporters on both sides of the Atlantic.
He added: "There has been a lot of preparation coming into it and the work they've done generate funds for Billy to come over and pay for the travel is amazing. It's amazing how people come together at times like this and help out the American team.
"The biggest credit goes out to a lot of the British fans, friends and colleagues who have supported us over the years and taken time off work to jump in the car and drive all the way over here.
"Hopefully they'll follow us on to Sweden as well and it's a credit to everyone, not just Billy and the rest of the guys - it's about the whole back-up crew behind us."