Hampel break confirmed
Polish star set for surgery
Last Updated: 11/06/12 8:15pm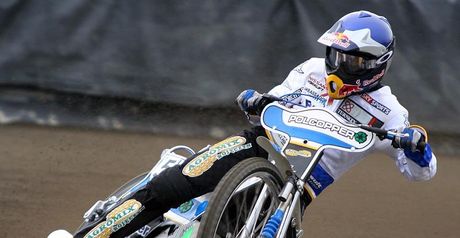 Jarek Hampel: Ruled out with broken leg (Pic credit Fotospeedway.pl)
World number three Jarek Hampel broke his leg during Saturday's Danish Grand Prix, he has confirmed.
Hampel went down in the opening heat after tangling with Kenneth Bjerre and his leg was hit by the Dane's bike.
Initial reports claimed he has dislocated his ankle and that it had even been put back into place on Saturday.
But now Hampel has revealed he has actually broken his fibula which almost certainly put an end to his world title hopes.
Hampel told SportoweFakty: "We are approaching the Polish border. We are on the road to Poznan where the hospital doctors will examine me and will determine whether an operation will take place today or tomorrow."
"I do not blame anyone for my fall in Copenhagen. It was a typical domino effect in Speedway."
It is estimated that this will rule him out of action for five to six weeks, which means he would be unable to take his place in the FIM Gorzow SGP of Poland on June 23.
He is also a major doubt for the Polish national side, as they launch their campaign for a fourth straight SWC gold medal in Event One at Bydgoszcz on July 7.
If Hampel's absence is confirmed for the Gorzow SGP as expected, Grand Prix series first qualified reserve Martin Vaculik looks set to be called up as his Vetlanda team mate's replacement.
This would make the Tarnow favourite the first Slovakian rider ever to appear in the SGP series.