Mark Selby used match play mastery to defeat Ronnie O'Sullivan , says Neal Foulds
New world champion Mark Selby's the master of match play, says Neal Foulds - but what's next for Ronnie?
By Neal Foulds
Last Updated: 06/05/14 4:07pm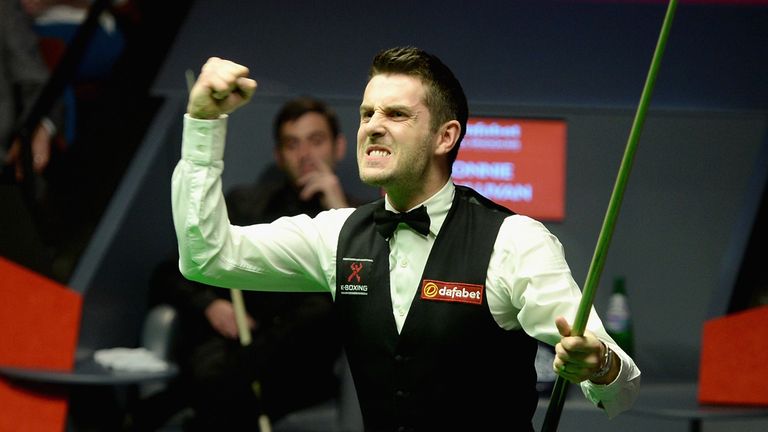 He hasn't always arrived at the Crucible in the right shape and going into this tournament he didn't look a lot better, after losing to Mike Dunn in the quarter-finals in the China Open.
But that lack of expectation worked in his favour, took the pressure off him and, after he struggled in his first match, he just got stronger as the tournament went on.
I remember playing him when he was 16 and he was a talented player then - with a ridiculously long cue action! - but he's worked hard since and deserves this.
He's a great ambassador for the sport; he does everything right, you never hear him moaning, he plays in tournaments all around the world and I don't think we could be in better hands than having him as world champion and new world number one.
His victory tells you snooker isn't all about being the most talented player, too. Selby obviously has talent, but you wouldn't put him in the league of O'Sullivan or Stephen Hendry. He plays tight, match snooker, though, and is a real hard-grafting, percentage-player.
He finished the final with a bang and looked the better player in the end. On Monday morning I had a sneaky feeling he might do it, but I didn't think he'd win it as comfortably as 18-14.
Ronnie, on the other hand, will feel he should have had a bigger lead at the end of day one. He was 10-7 up but, having had a day off after beating Barry Hawkins in quick time, and with Selby still recovering from his gruelling encounter with Neil Robertson, it could - and perhaps should - have been a bigger lead.
Even one more frame to Ronnie could have made a big difference. But Ronnie let him off the hook and Mark, who was always going to be better on the second day, made a great comeback. Ronnie hasn't been beaten at the Crucible since 2011, so Selby is a true champion.
The question is, where does this leave Ronnie? He made plenty of centuries during the two weeks but I never felt he was pushed that hard, apart from by Joe Perry, until he came up against Selby.
And now he's lost his world title, what will he do? Will he have the same drive? Will he continue? Will he play in many tournaments next year, without the world champion status to fall back on? Can he go through it all again next year? He's truly the best player I've ever seen but it's going to be interesting to see what happens.
Judd and Robertson Trumped
My pre-tournament tip, Judd Trump, is getting better and better but he was beaten by a hardened match player in Neil Robertson in the quarter-finals in Sheffield.
You have to be a very good player but also have that bit of grit to succeed at the worlds. Trump has all the ability in the world and is fantastic to watch but he has to be a harder match player. He wants to be a crowd pleaser and can play the flash shots, but there's room for him to become more wily, too. He's got everything else.
As for Robertson, who passed the 100 mark for centuries this season during the tournament, he will be back. He's had a great season and I'm sure he'll be among the top contenders again next year.
Ding done?
Ding Junhui, on the other hand, may well have missed his best chance to win the world championship at the Crucible.
It was a huge shock to see the man who has won five ranking events this season go out in the first round to rookie Michael Wasley, but I've never been convinced Ding likes playing at the Sheffield venue. Perhaps, if it ever moves venue, he'll be in with a better shot then.
The world title is missing from his CV and the jury is out for me whether he'll ever win it at the Crucible. It's not that he can't play in England - he's won the UK Championship twice - but he's never relished playing there. The wait for a Chinese world champion goes on...
Snooker on Sky
There was good news for the game this week with the announcement of new TV deals, including for the two Sky events, which will be on in the same week next year. The Shoot Out and World Seniors have been moved to March in Blackpool and will take place in consecutive days. I'm looking forward to being involved in that.
The game is in healthy shape.