Ronnie O'Sullivan: Masters champ may be the best ever, says Neal Foulds
Five-time Masters champion Ronnie O'Sullivan may be the best snooker player ever, says Neal Foulds.
By Neal Foulds
Last Updated: 23/01/14 9:55am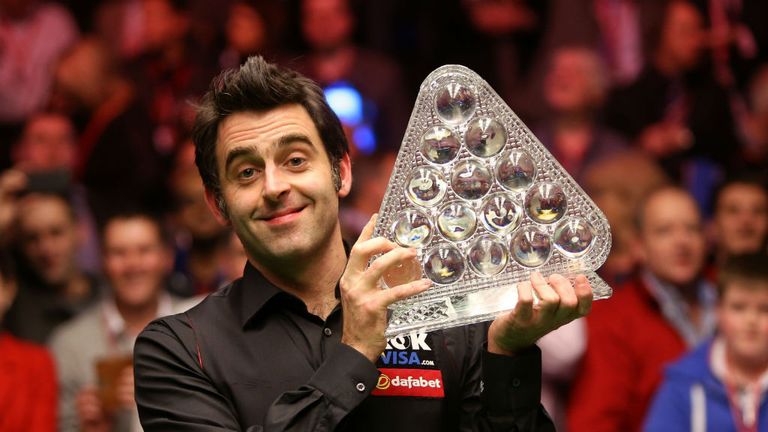 Throughout the tournament he was extremely impressive and never more so than in his 6-0 demolition of Ricky Walden.
O'Sullivan racked up a record 556 unanswered points during that quarter-final meeting and I don't think he's ever played better than that. Performances such as that one come along once in a blue moon. It was as close to perfection as you can get.
Five or six years ago, when Ronnie was playing all year round, he was getting tired and stale quickly. Now he picks and chooses the tournaments he plays in and doesn't worry about his ranking.
As a result he's a better player now than he's ever been - and, clearly, the Christmas break has paid dividends here.
It took Ronnie a long time to win his first world title and up until that success in 2001 people were talking about him being an underachiever. Given his amazing talent, that may have been a fair accusation.
However, now he's got five world titles, five Masters, four UK Championships plus many more victories, you can no longer label him an underachiever.
In fact, people who would never put Ronnie in the same category as Stephen Hendry and Steve Davis for sheer weight of silverware, all of a sudden, might have to think again. Not only has he won five world titles in the modern era with better players all around, but he's doing it in such a stylish way.
He's possibly the best player we've ever seen.
I can't remember Davis or Hendry playing snooker like this; they dominated the game but there's just something in the way Ronnie plays which makes him special. Most players can only dream of playing the way he does.
I first played him in a pro-am when he was 12. He's now approaching 40 and giving everyone a lesson in how to play the game.
Yes, he has his quirks - before Christmas he played in the German Masters as though he had forgotten he was allowed to play safety shots - but if he's not THE best ever to pick up a cue he's certainly up there in the top two or three. There's no doubt about that now.
And you can see the impact of that in the performances of some of his opponents; he has the sign over a lot of these guys now.
We've seen in the past that Hendry and Davis had their opponents beaten before the match started a lot of the time and Ronnie certainly has some rivals in that category.
Improve
Neil Robertson and Mark Selby, meanwhile, know now they will have to up their games if they want to deny Ronnie a third-straight world title in the spring.
Robertson was desperately disappointed to have crashed out in the quarter-finals. He couldn't find any reason why he played that way because he was knocking in centuries the week before but just didn't perform at Alexandra Palace. He just has to put it down to 'one of those weeks'.
Selby, on the other hand, after having a moderate season leading up to the UK Championship, where he got to the final, looked like he was playing quite well before losing in the final to Ronnie in the way he did.
That's going to set him back a bit and he's going to have to re-group before the season's climax in Sheffield.
These guys play an awful lot of snooker and they can't keep turning up and playing at the top of their game all the time so they have to work out a way of being at their best for the big ones.
And that will be especially true at the World Championship, where we can expect to see a refreshed and relaxed Ronnie ready to add more silverware to his trophy cabinet.