Neil Robertson: UK Championship win seals 'special' Triple Crown
Neil Robertson and snooker's other leading lights are pulling clear of the pack, says Neal Foulds.
Last Updated: 10/12/13 1:13pm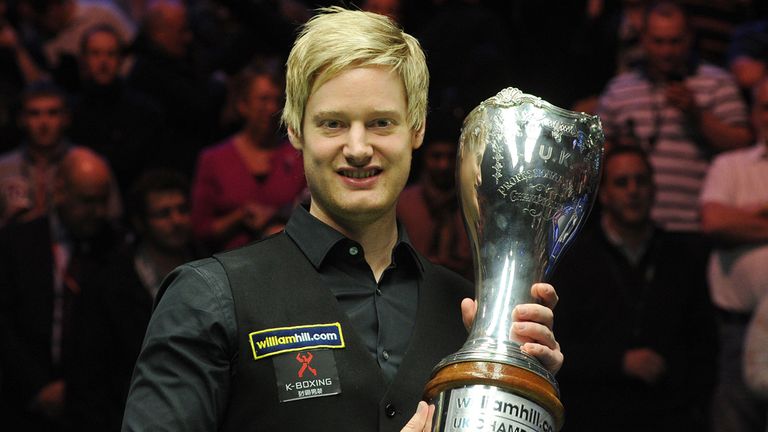 Becoming just the eighth player to win the Triple Crown of snooker's major events - and the first overseas player to do so - is a big deal and a special achievement.
By adding the UK Championship title to his 2010 World Championship and 2012 Masters titles, the Australian has now secured the three most coveted prizes in the sport.
However, he had his back to the wall at one point in the final.
Despite all the talk about the 128 players taking part, it was the world number one and number two, Mark Selby, who got to the final - but Robertson's win was far from straightforward.
Towards the end of the afternoon session Robertson was 5-1 down with two frames left to play before the break.
Some players may have been demoralised at that point and lost the session 6-2 or even 7-1 - and it's very difficult to imagine anyone coming back from that sort of deficit.
But Robertson battled back to win those two frames, seizing the momentum and making it 5-3 going into the evening session, and then, before you knew it, he was leading 8-6 and in complete control.
At one point he registered over 400 unanswered points and defending champion Selby hadn't potted a ball for over 50 minutes. Robertson was completely dominant and wrapped up a fine victory.
Breakaway
Ronnie O'Sullivan, who had won the Champion of Champions event the week before, exited at the quarter-finals to Stuart Bingham, while Ding Junhui, who was eyeing his fourth-straight ranking event title, was knocked out in the round of 16.
However, those two, along with Robertson and Selby, have formed a little group which is breaking away from the rest, including Judd Trump, who isn't quite doing it at the moment.
It will be interesting to see how that four-way battle develops with the Masters coming up next month.
Certainly Selby was playing below his best in York but once again demonstrated the ability he has of grinding out wins when he's only at 75 per cent.
He shouldn't come away from the tournament with any disappointment - especially as he leaves with £55,000 for achieving the 100th 147 in professional snooker history, when he cleared the table in his semi-final with Ricky Walden.
It was a great break from Selby, but I don't think I've ever seen a black cut into the middle to make a maximum before. It was a brilliant moment.
Jury
I remember him missing the final black when he was on for a 147 in the China Open in March this year and no one likes to see that, so mercifully he made it this time - and it really added something to the tournament.
And it was a good tournament all in all.
There was talk about the venue not being ideally suited to a 128-player event and possibly the UK Championship may go elsewhere next season.
It's changed venues many times in its history so it might be nice to take it on the road and move it around - but I think the jury is out on the 128-player tournament idea.
There were a few miss-matches early on but also some great stories like amateur Mitchell Travis, who made the last 32.
If I was a top player I might not be very happy about it, but spectators got to see great matches going on all over the Barbican so it certainly went down well with them.