UK Championship: Neil Robertson tipped for win in York by Neal Foulds
Neal Foulds tips in-form Neil Robertson to complete a career Triple Crown at the UK Championship.
By Neal Foulds
Last Updated: 29/11/13 3:49pm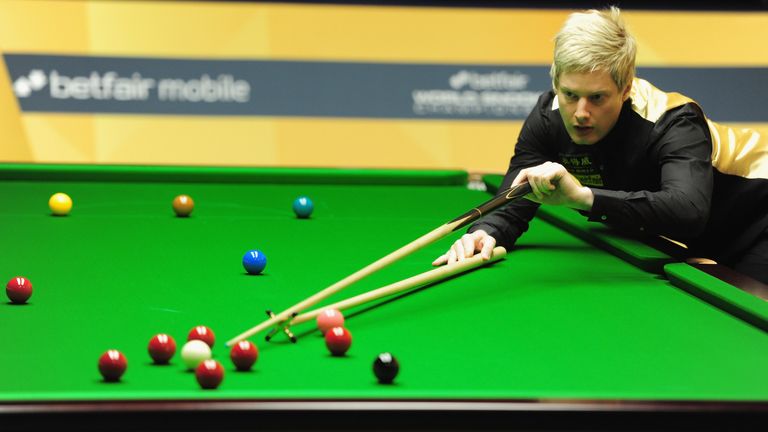 Defending champion Mark Selby is showing glimpses of the form which scooped him two of snooker's big three titles last season, but with Ronnie O'Sullivan clinching the Champion of Champions trophy last week and Ding Junhui aiming for a fourth straight ranking event in a row, the Jester from Leicester faces serious competition for his crown.
Here, former world number three Neal Foulds shares his thoughts on the big names - and tips Australian Neil Robertson to complete a career Triple Crown by adding the UK title to his Masters and World Championship wins.
Neil Robertson
Robertson has already made 50 century breaks this season and it's only the end of November. The record is 61, set by Judd Trump, so he's going to smash that. After losing to Ronnie O'Sullivan in the World Championship last season he said Ronnie's break building was in a different league to his own, so he's been working hard at that - and he's certainly improved and is scoring heavily, regularly. To add the UK Championship to his Masters and World title and become a lifetime winner of the Triple Crown would put him on a very exalted list of company but he's certainly good enough to win all three majors. He's on the brink of that now, his form is excellent and he's my main selection to prevail in York.
Ronnie O'Sullivan
Ronnie has to be one of the first names you mention when compiling a list of favourites. He's won the last two world championships and last week he secured, what is actually quite a prestigious win at the Champion of Champions event, where he beat everyone who has been winning things recently. He beat Ding Junhui, who has won the last three ranking events, and he beat Neil Robertson by the odd frame, so he's the best at the moment, but not by far. However, he will be motivated to take this title for a fifth time and has an aura around him at the moment. The only question mark is whether he can follow up his win last week at a long tournament like the UK - it will be a great effort if he can.
Mark Selby
Selby looks like he's playing pretty well again now after a slow start to the season and I'd be surprised if he wasn't involved in the latter stages. He won this tournament and the Masters last year before his form tailed off at the World Championship and I was impressed to see him get to the semis last week, although he didn't play that well against Stuart Bingham, who was on top of his game. So on that basis he's got a chance. I like his game; he's a neat and tidy player. On his good days he's as dangerous as the rest but on his bad days he finds ways of winning. He won in Antwerp the week before last, where he beat O'Sullivan in the final and, with that in mind, he'd be my second choice to win it.
Ding Junhui
Ding has won the last three ranking events and is going for four in a row - something we haven't seen since the Stephen Hendry era. To come back to the UK, having won twice in China and once in India, it would be quite a performance if he could win four. It's only that I don't know any player could win four in a row these days that I'd go against him and because he's surely due to have a slight slump in form. O'Sullivan had to play brilliantly to beat him last week but this might be one step beyond him.
Judd Trump
The former world number one looks to be struggling. Until he starts winning regularly I can't tip him to come out and win a big tournament like this. Personally I would love to see him winning again because he's one of the most exciting players in the game. There were signs in the Champion of Champions event that he isn't quite there yet and I feel he puts himself under pressure with some of his comments. But, although he's not everyone's cup of tea, I like him and he's a terrific player. I hope, rather than expect, he plays well.
John Higgins
John isn't playing very well at the moment. He's making alterations to his cue and he lost early last week to his friend Stephen Maguire. He's won this title three times and he's a great player but he has to come back to form because he's just not been playing well enough recently. Whatever advantage he had over the other players two or three years ago, the others have caught up and it's possible we've seen the best of him. I say that slightly nervously because he's a class player but his overall consistency isn't what it was.
Outsiders
I wouldn't look too far down the list because the UK is rarely won by anyone ranked too low but a double figures price player is Ali Carter, who it was nice to see play well last week. He lost narrowly to Robertson, where he missed an important green at the end, and his game suits the longer matches, as his runner-up trophies from the World Championships show. It's just a question of keeping up his form from the other day but he's had problems with his health - apart from Crohn's disease he's also had testicular cancer which kept him out of play in the summer. He's not quite in amongst the big boys at the moment but on his day he's got the game and he's unlucky not to be a world champion.
I should also mention Mark Allen. He had a bit of a controversial match with Carter last week, where there was a suggestion Carter put him off, which I guarantee wasn't deliberate. But he's another player who, when he gets his form together, can be unstoppable. It would be remiss not to fancy him but I wish he'd let his snooker do the talking.