Ding Junhui and Chinese snooker stars set to rule, says Neal Foulds
British snooker players need to raise their game or China's rising stars will rule the world, says Neal Foulds.
By Neal Foulds
Last Updated: 08/11/13 11:09am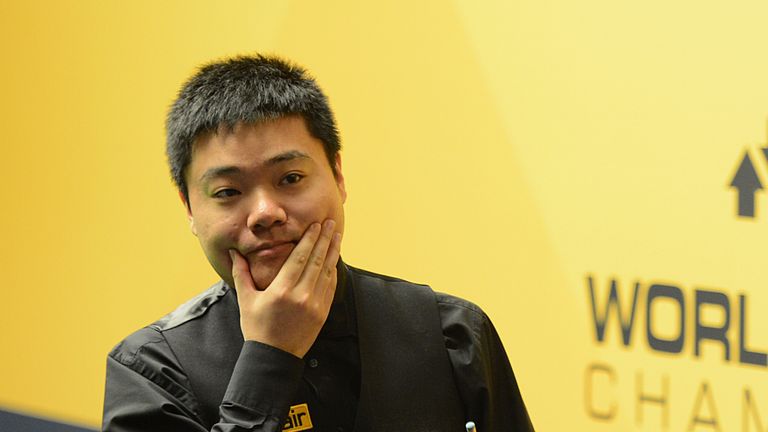 Overseas players have always had to travel for what is a world sport and they've had to come here, learn the game and qualify - even the events in China, they've had to qualify over here.
The Tour has changed a lot since Barry Hearn has come in. There are now five ranking events in China and more could be on the way.
It's a shame for the young British players but if they are good enough they should be able to travel - that's why overseas players have struggled because it's always suited the Brits. That will have to change.
Most young players over here have accepted it but they will just have to put up with it because the players from abroad have done it for so many years. I don't have too much sympathy for the Brits.
There have been five ranking titles this season so far with three in China, plus Australia and India, and there has not been a Briton in a final in the last four.
They are struggling, with John Higgins the only Brit to play in a final. The big test will be when the Tour moves back here with the UK Championship in two weeks and the Masters.
I'd be surprised if we don't see any Brits in those finals but, if we don't, then you could see it as a real changing of the guard.
For 10 years everybody has said that China would be dominating snooker but it hasn't quite happened. It's a lot like a football club with a millionaire in charge. You can't buy success and it just takes a while.
Record
Ding Junhui recently secured his third successive ranking title this season (the first time since Stephen Hendry in 1990) which is an incredible achievement.
His success will just speed up the development in China, and there's now a third wave of Chinese players coming through.
There is Xiao Guodong and Tian Pengfei, who I don't think are quite good enough to win anything yet, but the 16-year-old Zhao Xintong, who beat Barry Hawkins 6-1 at the International Championship recently, has really impressed. These guys are the ones to watch.
Ding's success has not happened over night and he seems to have finally matured. He has been very unpredictable with some pretty average performances. Has that come from the pressure on him back in China? He seems to have overcome that now.
He's lethal among the balls and his temperament looks as good as anybody. You just wouldn't have said that two years ago.
The turning point was the final of the Players Tour Championship Grand Finals in March. He was 3-0 down to Neil Robertson in the best of seven. It was a massive game and the match was of such a high standard.
Robertson hardly missed a ball and Ding had a 99% pot success and fought back to win 4-3. Nobody had won two titles in a row since the turn of the century and to win three on the bounce is amazing. He's won 19 matches back-to-back with five of them going to a last-frame decider.
In each of those he's come through comfortably with big breaks so he's showing how good his temperament really is.
Claustrophobic
Could Ding win the Worlds in May? If it happens, it would probably be the best thing to happen to snooker.
However, I don't think Ding has ever looked comfortable at the Crucible. It's strange because he's based in Sheffield. It's a great venue but the first few times you play there, it certainly doesn't feel like that.
It's claustrophobic and you can hear the audience breathe in the front row. I don't think Ding has ever liked it, although he did reach the semis in 2011.
There are no signs he has played his best there, but because the season has started so well for him you think of Mark Selby for the last two years.
Will Ding have already played his best snooker come the Worlds? Will Ding be mentally tired? That is a concern for him.
There are a lot of great players in Britain but they may never get to see a snooker table. There just aren't many clubs any more - no big clubs in London. Kyren Wilson, aged 21, is a very good player. Plus, there's Jack Lisowski who I seriously rate.
But we just won't see as many players coming through from this country as we do from Asia.
A few years down the line, all the best players will be from there. They seem to be more encouraged and they have more opportunities to play than a youngster here.
Mercifully, Ronnie O'Sullivan slipped through the net and discovered snooker to become one of the all-time greats.