World Seniors Championship: Dave Harold can shock big names, says Neal Foulds
Neal Foulds shares his World Seniors tip as '85 heroes Steve Davis and Dennis Taylor meet again...
By Neal Foulds
Last Updated: 17/10/13 8:42am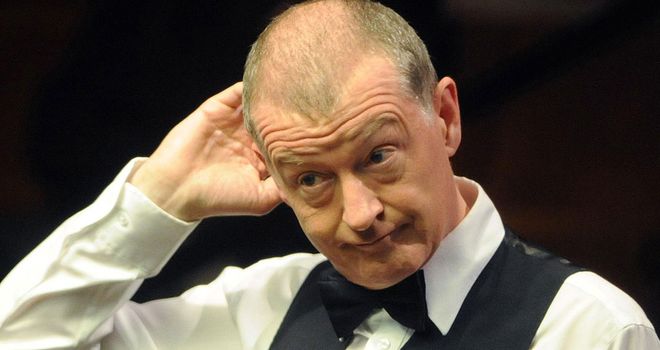 Their epic 1985 World Championship final - which Taylor won 18-17 shortly after midnight by potting the final ball of the final frame - is one of the sport's most iconic moments.
At the time the 35th frame decider was the longest frame ever but it didn't feel like that watching it. Both players were struggling by the end but it was a tremendous final.
Steve will probably look back now and wonder how he didn't win that title, after leading Dennis throughout and missing a straightforward cut on the black in the final frame, but that's the way it went.
And that's why their match-up
on the first day of the Seniors at the Mountbatten Centre in Portsmouth - which you can see live on Sky Sports - catches the eye.
The matches are best of three, so anything can happen, however, although Dennis is still fiercely competitive he's not playing on the tour now and I think anyone not on the tour will find it difficult to win this event.
I played in the seniors two years ago and, although I had been practicing a little, I found the tables I had been practicing on bore no resemblance to the match tables. They were so quick, especially with the TV lights on them.
That's where the main tour players have the advantage. The cloth isn't much different to what I used to play on but you forget how fast it is.
One player who will have a good idea of what to expect, though, is Stephen Hendry.
The seven-time world champion is only 44 but due to a rule change this year is able to play in the event which has previously been reserved for over-45s, which is good news for the fans - but, perhaps, bad news for his opponents!
I've read Stephen's only been playing nine-ball pool - which he's contracted to play in Asia - and that he might not start playing snooker until two or three days before the tournament.
I don't know if he said that to take the pressure off himself - because clearly Stephen Hendry at his best would walk it - but snooker's one of those games where without practice you are going to struggle, no matter how good a player you were.
It's a game which requires talent but you've also got to put in the hours, as well. But Stephen's got a determined streak and, although I don't know, I suspect he's putting in more hours than he says!
Contenders
Although the likes of Jimmy White will be getting plenty of attention this weekend, I suspect Hendry's main rivals for the title will be reigning champion Nigel Bond and Dave Harold, who is currently 55 in the world.
Nigel may not have been the most dynamic winner of the competition in many people's eyes last season but, after it took him a year to get to grips with being a senior player, he went about his business and got the win.
Dave Harold, meanwhile, won all his matches in qualifying without losing a frame and, although his name isn't on everyone's lips, he's a tough match player at any level.
Both him and Nigel will be tough to beat - and I've got a feeling Harold will do it.
He's got Tony Drago first up which is a difficult but entertaining match-up but he has a really good chance.
Either way, it should be an enjoyable couple of days of snooker. The Seniors always produces some good-hearted banter but there's still £18,000 and a world title to be won, so, despite the novelty feel to it, I can ensure you the snooker will be highly competitive!