Ronnie O'Sullivan wins plaudits for fifth world title success
Neal Foulds hailed 'brilliant' Ronnie O'Sullivan and reckons this won't be the end for the Rocket.
Last Updated: 07/05/13 5:04pm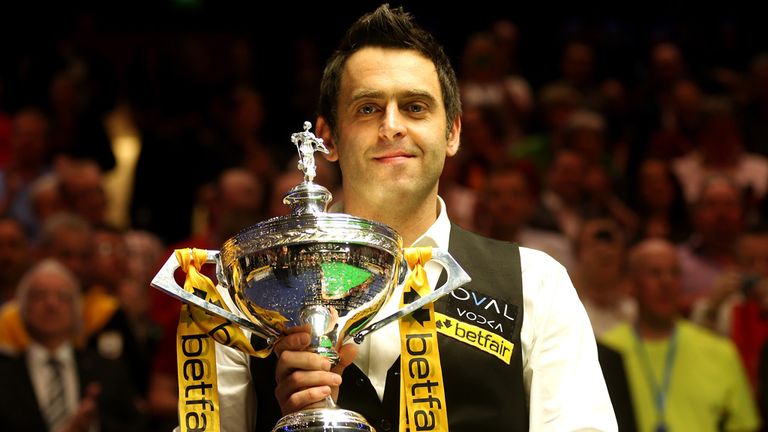 The Rocket, who had played just one competitive match since his Crucible win in 2012, was unquestionably the best player at an extraordinary tournament, which saw plenty of shocks throughout the two weeks.
There are very few players in the world who are able to play themselves into the World Championships, but Ronnie - who wasn't tipped by many pundits ahead of the event given the uncertainty about how he'd perform - was good enough to get through the early phases and then got better and better with each round.
By the final he was just brilliant. Runner-up Barry Hawkins couldn't play any better - he just missed a few pots here and there - but he couldn't keep pace with the now five-time-winner.
It's easy to try and criticise the standards of the field but the truth is Ronnie was just exemplary. I'm convinced his work with psychiatrist Dr Steve Peters, who has had such a positive impact on the Great Britain Olympians, has aided Ronnie's performance. Yes, he still says stupid things off the table - he always will! - but on it he was textbook.
The question now is 'what happens next?'
Last year I said if he wanted to retire from the sport his fourth world title win was the perfect way to do it. Well, now he has five it is even more perfect!
There's nothing left for him to achieve - but if he did hang up his cue, what would he do? Despite what he says, I don't think he can step away from the sport permanently. I think he'll miss the game.
Yes, he may not be interested in the early season tournaments out in the Far East, but when the tour gets back round to the big events such as the UK Championships and the Masters, I think he'll be pining for the game.
It's much like the old Alex Higgins quote: "Could I survive without snooker? Could snooker survive without me?" Well, clearly Ronnie couldn't survive without it because he's comeback and I think he needs the routine of the sport in his life.
Surprise
Aside from Ronnie's remarkable win we also saw plenty of other surprises in Sheffield. John Higgins, Neil Robertson, Stephen Maguire and Mark Allen, who were all among the bookies' favourites, fell at the first hurdle, while world number one Mark Selby was packing his bags after a second round loss to Hawkins.
Their early exits raised the debate about 'burnout' and, regardless of what term you use for it, I'm convinced some of the top players, who have been playing so much all across the world this season, looked a little mentally tired.
That, though, gave lesser lights a chance to shine and Dechawat Poomjaeng won plenty of new fans, while Michael White showed he is a very decent young player.
I still believe Jack Lisowski is at least White's equal and I'm convinced he'll go down as one of those top players who disappoints on his Crucible debut - after all, O'Sullivan, Stephen Hendry, Steve Davis and John Higgins all suffered defeat in their World Championships debut.
But that's for the future, now's the time to reflect and enjoy Ronnie's wonderful comeback win.