Rocket returns
Neal Foulds doubts Ronnie O'Sullivan can retain his title but tips Neil Robertson to win the Worlds again.
Last Updated: 20/04/13 9:02am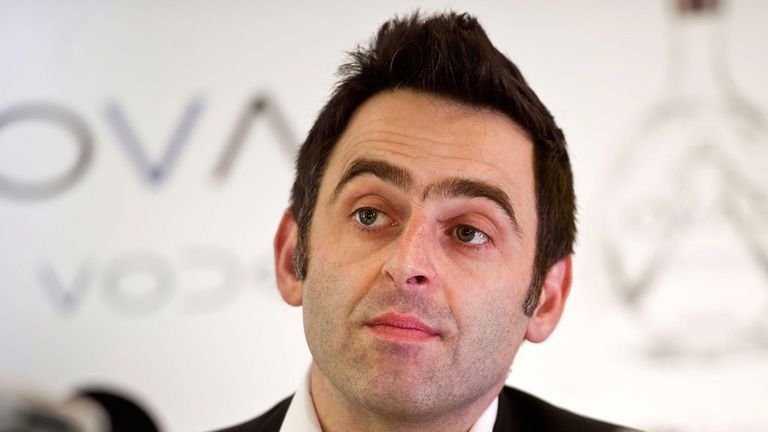 The World Championships get under way on Saturday and all eyes will be on the returning Ronnie O'Sullivan who, after nearly a year out of the sport, is back to defend his title.
The Rocket is seeded number one so avoided having to qualify for the event - his world ranking has dropped to 28 - but after playing just seven frames of competitive snooker since winning his fourth world title last year it's tough to predict how he'll fare.
Those seven frames came in a defeat to journeyman pro Simon Bedford in a PTC event in the early part of this season. Since then we've heard very little from the biggest name in snooker. I know he's been making some big breaks in exhibition events but there's nothing like the real thing - and there'll be plenty of pressure and focus on him at the Crucible.
If anyone can spend almost 12 months away from the sport and then come back and win the world title it's Ronnie and he could come out and play brilliantly. But I'm not sure he will.
He's got a decent draw against Marcus Campbell and although in the second round he is likely to play last year's losing finalist Ali Carter, Ronnie has never failed to beat him in 12 ranking event meetings.
If he can get two wins under his belt and settle into the tournament who knows how far he can go - but one thing's for sure, he'll be the focus of everyone's attention in Sheffield.
You can see the draw for the World Championships here.
Here's my verdict on the other contenders for the title:
Neil Robertson - 2010 world champion
Robertson showed his form by winning the China Open last month, which, coincidently, means every ranking event this season has been won by a different player. I've been on the side of Robertson to win the world title all season, however the record of players winning the tournament that leads up to the worlds and then winning the worlds isn't good. I was almost a little disappointed he didn't go out in the second round and earn some more practice time! It shouldn't make a difference really, but two and a half weeks in Sheffield is a long time and you need to be fresh going into it to give yourself the best chance.
Mark Selby
Selby didn't look right 12 months ago and was suffering with a neck problem when he went out to Barry Hawkins in the first round. However, he's comeback in style this season and is on for the Triple Crown after his wins in the UK Championship and Masters. If he added the world title to those victories then that would put him up there with the all-time greats of the game. He's never won the world title, though, and that goes against him. I don't overly fancy him because, although he's clearly one of the best players around going by his form, he's had a lot of snooker this season and is the kind of player who, as he has done in the past, may run out of puff and struggle mentally during the course of the tournament. He can win it - but I'm not tipping him.
Judd Trump
Trump's form isn't very good at the moment but I feel we may see a left hander win it this year. It's not a bad thing going into the Worlds not in brilliant form and Judd is clearly a top player; he's reached the final before and lost narrowly to Ali Carter last year. Everyone knows he enjoys himself away from the table but, as long as he's putting in the required amount of practice, he's a player in that half of the draw who will be dangerous. He's got a nice first round draw against Dominic Dale, who he beat last year with food poisoning, and could go far.
John Higgins - 1998, 2007, 2009, 2011 world champion
Higgins is a leading player but he's unpredictable at the moment. You look at him and think he's still a great player but he doesn't win as much as he should do. At the start of the season he looked great; he won the Shanghai Masters and made 147 in a brilliant final against Trump. He looked terrific then, but he's not quite in that form now, although he beat Ding Junhui 5-0 in the World Open, so he isn't far off. I'm sure he'll be well prepared for Sheffield and as a four-time winner can't be ruled out.
Shaun Murphy - 2005 world champion
Shaun hasn't won anything this season, yet he's been the most consistent player on the tour. He's made a lot of quarter-finals and a lot of semi-finals but then fallen short. As a former world champion he fits the profile of someone not winning tournaments who might do well. No one hits the ball better than him but I don't think he's tactically as astute as someone like Higgins. He has got a chance in his part of the draw, although he has drawn arguably the toughest qualifier in Martin Gould in the first round - Gould won the Snooker Shoot-Out earlier this year.
Neal's tips
I've narrowed it down to three contenders. The first is Neil Robertson. I can't go off him just because he's won a tournament, that doesn't make sense, and he's been in good form. The second is Judd Trump, because I'd like to think he'll come back to his best just in time for the biggest tournament of the year. And finally, if he builds up momentum, Mark Allen could go well. We saw him win the World Open two years running and if he gets going he can be unstoppable. He's a very hungry player and I like his chances. The only problem is he'll most likely have to play Ding in the second round, which is a terrible draw for both of them - and then he'd have to play Selby.
Neal's one to watch
There's no doubt about which player you should be looking out for in Sheffield: Jack Lisowski. He's beaten his mate Trump a couple of times and is improving rapidly. He's improved almost ten points this season and that's a lot. He had to win two matches to qualify but he's playing as well as a top 16 player. I'm not saying he'll win it but there are similarities between him and when Murphy won as a qualifier in 2005. Everyone knows he's good enough; he's a terrific player. And another one to keep an eye on - although he won't win because he's got Mark Williams first up - is Michael White. He's very talented.