Mark Selby finished his year in style as UK Championship winner and world number one, says Neal Foulds
Neal Foulds was pleased to see Mark Selby put a tough year behind him with his UK Championship win.
Last Updated: 17/12/12 8:48am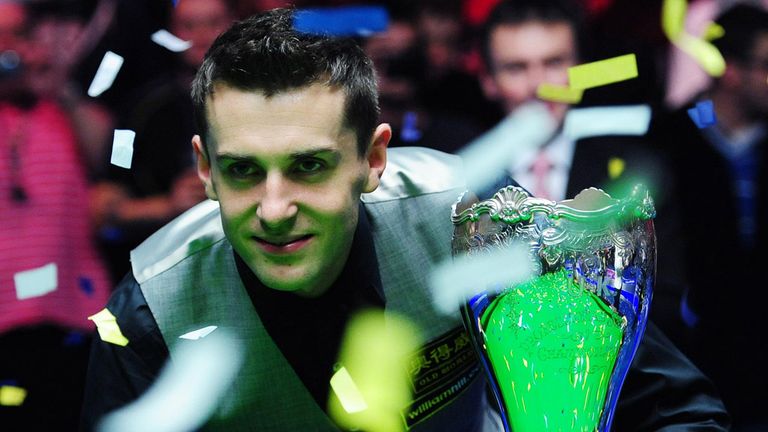 Following a great fight-back in his quarter-final match with Neil Robertson, where he came from 4-0 down to win 6-4, the two-time Masters champion defeated Shaun Murphy in the final to end a difficult year on a real high.
Selby first took the world number one spot in September 2011 and it was reward for playing so consistently - but a neck injury in March this year led to a serious dip in form.
As he was so far ahead of his rivals in the rankings he spent much of 2012 officially number one, although in reality he was only performing like a top eight player.
As a snooker player there aren't many things you can injure which make a difference but your neck is certainly one of those things.
I suspect it was wear and tear from playing so much snooker in 2011 and it obviously affected him, leading to Selby losing top spot in the rankings to Judd Trump last month.
So, this win at the Barbican Centre in York really is a great triumph for him. I didn't think he was ready to win such a big tournament again just yet - but perhaps his unfancied status took some of the pressure off him.
It was plain to see what it meant to him when he punched the air after defeating Robertson and I'm really pleased for him - although he's not yet back to the level he was at last year. Now he's back to number one the expectation is back on him and how he deals with it this time round will be decisive.
I tipped the runner-up Murphy to make it to the final and he duly delivered, albeit thanks to a superb comeback in his semi-final against Ali Carter when he was 8-4 down and won 9-8. He, like Selby, is a model professional, and there's no finer ball striker in the game.
It's good to see him playing well again and there's got to be another huge tournament win in this man because he's just too good not to win one soon and add to his 2008 UK and 2005 World titles.
Peculiarity
I also suggested Trump - who started the tournament as number one in the world - may struggle in this event after a busy schedule so far this season and he was undone in the first round by Mark Joyce, who is a bit of a bogey player for him.
It's a peculiarity of snooker that top players always have someone below them in the rankings who shouldn't beat them but always seem to.
Former Sky Sports commentator Mark Johnston-Allen, who only had a highest ranking of 31, beat Stephen Hendry three times in three ranking event meetings when Henry was at his peak, so you do get these kind of results.
I'm not worried about Trump's form; it's difficult to stay at the top of your game throughout the whole season and, in my opinion, he's still favourite to win the World Championships in April, in my opinion.
The real stories of the tournament, though, were the emergence of Luca Brecel and performances of Mark Davis.
Brecel is just 17 years of age but he showed glimpses of his wonderful potential, and after wins over Ricky Walden and Mark King, he should have beaten Murphy in their quarter-final.
If he had done who knows how far he would have gone, because he was good enough to win it as far as I'm concerned. He's a brilliant prospect and a guy to look out for in the future.
At the other end of the age scale is Davis, who has been a pro longer than Brecel has been alive! He's 40-years-old and probably playing the best snooker of his life.
I would never have forecast him getting to the semi-finals, including a win over John Higgins - who hit a 147 - in the match of the tournament.
They were two remarkable performances that lit up the event.