Mark Allen can avenge his 2011 final defeat at the UK Championship, says Neal Foulds
Neal Foulds previews the UK Championship and says 2011 winner Judd Trump won't have it his own way.
Last Updated: 30/11/12 4:07pm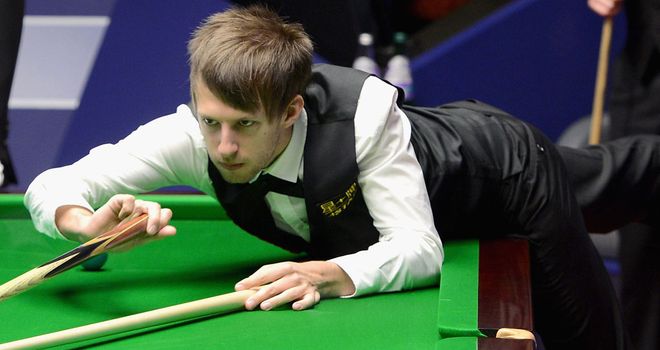 Last year's runner-up Mark Allen will no doubt be determined to go one better, while John Higgins, Neil Robertson and Shaun Murphy are among five former world champions in the field.
Here, Neal Foulds shares his predictions for the event - and says hot favourite Trump is not necessarily nailed on for victory...
The contenders in the top half of the draw
Judd Trump starts as the man to beat, there's no doubt about that. He's the player everyone has down as favourite to win. However, snooker's at a funny point right now; there's so much snooker taking place I wonder how a player can keep his form throughout the season.
An example of that would be Mark Selby. A year ago he was a mile clear in the rankings, then he had a problem with his neck and doesn't look half the player as he was then.
While I don't think that will happen to Trump - because he's got more natural ability - it is very difficult to defend a major title, such as the UK. Although he's number one in the world, he's only won two ranking events in his career so far, so to win the UK again might be a struggle.
Looking at his draw he looks nailed on for the quarter finals and he might be playing someone like Stephen Maguire, who's always tough at that stage. So, there are reasons to oppose Trump in this event.
Not only is he a very short price but when he lost in the final of the Premier League last week he didn't look very sharp.
He's at the top of the draw and he's got an obvious chance but he may be suffering from playing so much snooker this season.
The player I really like is Shaun Murphy. The Englishman has only ever won four ranking tournaments, which is a little low for someone as good as him - although among those four he's got a World Championship win and a UK Championship title.
He won here in 2009 - although his final against Marco Fu in 2008 was far from a classic! He's a top player and this year he's been getting to quarters and semis regularly. He still hits the ball as well as ever, he's got a fantastic action, and it's only a matter of time before he picks up a big trophy again.
He's in a quieter part of the draw and won't meet the likes of Maguire or Trump until the semi-finals so I'm thinking he could be the man to get to the final, with Maguire as a dark horse in that half.
Contenders in the bottom half of the draw
On the other side of the draw John Higgins is bouncing back after a terrible season. He changed his practice routine in the summer, he's got a new cue and we've seen him reap the benefits already.
He won at the Shanghai Masters, beating Trump in a brilliant final, which included a 147 from the Scot. He's beaten Trump twice more since, although he lost 4-0 in the Bulgarian Open final the weekend before last.
Higgins is back and he's won this title three times before, but, like Trump, he's had a lot of snooker this season. He's got a nice draw and I think he'll get to the quarters but then Mark Allen could be his biggest danger.


Mark Allen got to the final of this tournament last year and he's won a ranking tournament since then - the World Open in China. He's quite controversial and will no doubt say something in the press to get himself fired up before the event. When he is fired up he is difficult and that could be where Higgins' run comes to an end.
I've got a feeling Allen could have a good tournament. Going by my theory of players playing too much snooker and doing too much travelling this season, perhaps he's fresher than some others as he's not been winning as much.
Also in the bottom half are Neil Robertson, Mark Selby and Ding Junhui. All three have a chance and one of those will make it to the semis - but they may be a sitting duck for Higgins or Allen by that stage.
Trump has made a mess of the usually consistent Robertson a few times recently, Selby is suffering from a bit of burnout and is on a downward spiral and Ding is wildly inconsistent, although he has won this title twice before so you can't write him off.
One to watch
My one to watch for this event may not even get through his first match because he's playing Stuart Bingham but Jack Lisowski is definitely a player for the future. He's a roommate with Judd Trump on the tour and their good friends. Trump is obviously the better player but Jack has beaten him a couple of times and has plenty of potential.
I don't think he'll win it but if anyone wants to see an up-and-coming player, he's the one. He got a 147 and made another century in his qualifying match against Chen Zhe and then in his last qualifier he made two more centuries against Joe Perry, which, in some ways, was a better performance. In a year's time we might be talking about him in the same way as we did Trump.
Neal's winner
My two for the final are Murphy and Mark Allen. I completely respect the chance of Trump and Higgins, they're the best two players at the moment in the world, but I think they're opposable because they've not stopped playing snooker this season.
Murphy and Allen are great mates, although you'd say they were the least likely pals in the game! One is a consummate professional who never says anything about anyone and the other is one of the most outspoken players we've got. I guess opposites attract.
If they do get to the final I suggest Mark Allen might be more fired up. Murphy has lost a lot of semis and finals recently, so I'd go with Allen.
The Northern Irishman wouldn't find it easy to get there but he's a momentum player and if he has his serious head on in the early rounds he'll get better and better. Only a brilliant performance from Trump stopped him winning last year's final.