Judd Trump deserves to be World No1 and will win his crucial Premier League match this week, says Neal Foulds
Neal Foulds reflects on Judd Trump's rise to the top and previews this week's Premier League action.
Last Updated: 06/11/12 4:22pm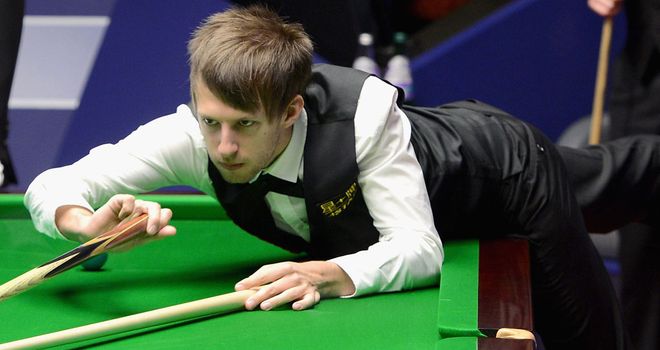 Trump is an excellent player and I'm pleased to see him at number one because he deserves his success.
The Bristolian was the most precocious talent we've ever had in snooker - and that includes O'Sullivan, who as a 12-year-old played to a high level. Trump was even better; it was the biggest certainty in the world he'd one day get to the top and, with the support of a strong family behind him, he's made it.
I first saw him play when he was eight years of age in a junior tournament and even then he seemed like he was something very special. When he was 10 he played my son in a junior tournament. My son was 15 but Trump beat him and my son hasn't really wanted to play the game since because Trump was too good!
The only stumbling block for Trump was the qualifying scene. It took him a while to get out of that because he had hardened professionals who, although they weren't as good as him, threw everything at him tactically. Everyone knew about Trump and wanted to beat him and as he struggled to qualify for the big events some people began to write him off.
However, he made his breakthrough by winning the China Open in 2011 and since then he's had a meteoric rise. Just a few months later he followed that win up by reaching the final of the World Championship - an incredible achievement - and now, less than 18 months later, he's world number one at the age of 23.
It's great, too, that he's reached the top playing his attacking-brand of snooker. Although his tactical and safety games aren't bad, he has built his success on a great potting ability and heavy scoring. He's certainly provided some great entertainment for spectators around the world.
With that style there's no guarantee he'll stay at the top for years and years - Mark Selby, the former incumbent, held onto that status by grinding out results even when he wasn't playing well and Trump doesn't have that to fall back on at the moment.
But the tactical game will come to Trump as he gains more experience. Now he needs to focus on defending his UK Championship. It's not easy to defend the big tournaments but that is what makes a very good player a great one.
There is also a world championship win to target but, for now, Trump can enjoy the fact he's ranked number one in the world.
Trump meets Mark Allen in a decisive Premier League encounter on Thursday night, following Mark Selby's clash with Shaun Murphy. You can see both matches live on Sky Sports 4 HD from 7.30pm. Here's Neal's predictions...
Judd Trump v Mark Allen
Fortunately for Premier League fans the new world number one is in action this Thursday - and it's no exhibition against Mark Allen. This game will decide who joins John Higgins in qualifying for a semi-final spot from Group B. Both Trump and Allen have two points so the first player to three frames in this contest will go through. They met last week in China for the International Championship and Trump edged a tight, fascinating encounter 6-5 before going on to win the big-money tournament. I think Trump might just pip Allen to three and it would be great to see the new world number one go through - not least because he was my tip to win the Premier League before the tournament! But these two have had some very close matches over the past 18 months so I'm going for a 3-3 with Trump going through.
Mark Selby v Shaun Murphy
Before that encounter Mark Selby takes on Shaun Murphy in a dead rubber in Group A. Neither player can reach the semi-finals after enduring disappointing campaigns in the Premier League this year. Away from the Premier League Shaun Murphy is starting to play better and made the semis of the International Championship last week but I'm a little concerned about Selby. I don't think he's playing anywhere near the standard he was a year ago, despite performing in a couple of the PTC events. He got to the top playing attacking snooker but he clearly doesn't have confidence in his game at the moment and that shows with his shot selection; he often plays the percentages rather than taking a shot on. So I'm going with Murphy to win this 4-2. Both players are good pros and know they have to put on a display for the TV viewers and the crowd so, even though there's not much to play for, we should still be in for an entertaining match.