Triple treat
Judd Trump will shine in Thursday's jam-packed Premier League bill at Guildford, says Neal Foulds.
Last Updated: 23/10/12 4:33pm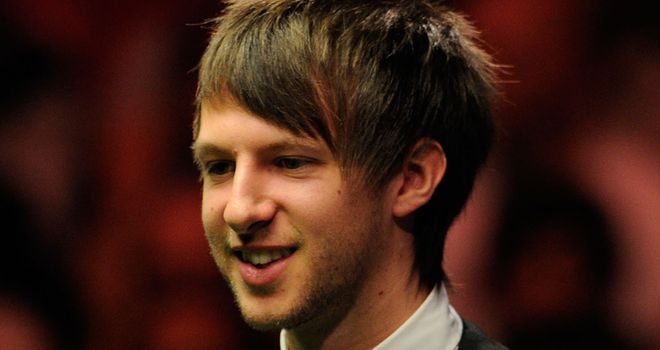 Following last week's cancellation, due to the suspension of Stephen Lee, the Premier League returns with a triple-header on Thursday night.
Stuart Bingham will be appearing twice on the bill at Guildford, kicking off the night with a match against world number one Mark Selby, who is in desperate need of his first Premier League win of 2013.
Judd Trump then takes on John Higgins in what should be a fascinating and thrilling battle between two of the sport's biggest names.
Finally Bingham rounds off the evening with a contest against Australia's Neil Robertson. The 2010 world champion usually struggles with the Premier League format but has won his first two matches and knows victory over Bingham would put him on the brink of a semi-final spot.
Tune into Sky Sports 3 HD on Thursday from 6pm to see how the matches unfold, but first read on for Sky Sports snooker expert Neal Foulds' predictions...
Stuart Bingham v Mark Selby
Stuart Bingham will feature twice on Thursday night and I wouldn't have thought that would be a bad thing for him. Come his second match he will be used to the cloth and the arena and know what to expect - but key to his performance in his match with Neil Robertson will be how he gets on against Mark Selby.
Selby is the current world number one but he's not been playing like it for the past six months. However, there are signs he is on the road back to form. He won the first European PTC event - the Paul Hunter Classic - at the start of September and he got to the final of the third European PTC event - the Antwerp Open - in Belgium last weekend. He eventually lost out in Antwerp to Mark Allen, who made three centuries in a row, but I'd say Selby starts this one as favourite.
He's been working really hard to regain his form and he's the most persistent guy you could meet; he'll keep going with his methods and style of play until it comes right; he's pretty unflappable.
He's not played well in the league this year but, knowing he has to win this match to keep his semi-final hopes alive, I think he can get the vital two points in this one.
Prediction: It's a big night for Bingham and playing twice at Guildford could work for him. He'll certainly be a dangerous opponent but I think Selby will edge this one 4-2. Selby has been struggling for six months but hopefully he's coming out of that now and he looked better in Antwerp.
Judd Trump v John Higgins
With the suspension of Stephen Lee and the removal of his results from the Premier League, Group B is suddenly a very tight table. Trump was well-placed, sitting top of the pool with a two-point advantage last week but now, without anyone playing a match, he's suddenly second in a three-way tie with Mark Allen and John Higgins on two points.
It's going to be a real tight race between that trio for the top two spots and a place in the semi-finals. However, I like Trump in this format and expect him to take one of those spots.
This match, though, could be a classic. These two played out a wonderful final at the Shanghai Masters last month; it was one of the best finals we've seen in years. Higgins eventually prevailed 10-9 but had to come back from 7-2 down, and did so with a 147. However, in this format Judd is too dangerous and I think he'll get his revenge.
Judd's confident at the moment. He lost to Jack Lisowski in Belgium at the weekend but, as those of you who follow Judd's Twitter page will know, those two live together and are great mates.
Although Jack is a talented up and coming player in his own right, he probably knows Judd and his game better than most, so I wouldn't read too much into that, in terms of Judd's current form.
Prediction: Both players will be desperate to win so hopefully we'll see something that matches their wonderful Shanghai final. It will be a terrific game but in this format I have to side with Judd Trump. I suspect it could end up 4-2 in favour of Judd but if he's feeling good and playing as well as we know he can this could even go 5-1 to the young ace.
Bingham v Robertson
The final match of the night sees Bingham return to the table, this time facing Neil Robertson, who is very determined to do well in this year's edition of the Premier League.
Robertson traditionally has struggled with the format - with the exception of his 2010 semi-final experience - but he is playing well, looking good and I suspect his could be his year. He'd love to win the Premier League title and he's played quite well in the matches I've seen so far, especially in his opening match against Mark Selby.
In terms of Bingham's chances, they will clearly be affected by his result in his match with Selby. If he beats Selby then there's every chance he'll be dangerous in this one as well. If he's won he'll be really eager to get back out there and on the table. An extra six frames in an evening isn't any hardship for these players so a win over Selby could set up a memorable evening for Bingham.
However, defeat in that first match up could leave him deflated - it's not nice to come out and play again if you've suffered a loss.
Prediction: Bingham's result with Selby will be a factor in this match but at the moment I'd say Robertson is the man to beat, and on balance I'd take Robertson to beat him 4-2.