No laughing matter: Mark Selby needs a win against Ding Junhui in the Premier League
Mark Selby's form is a cause for concern and his Premier League chances in the balance, says Neal Foulds.
Last Updated: 15/10/12 10:19am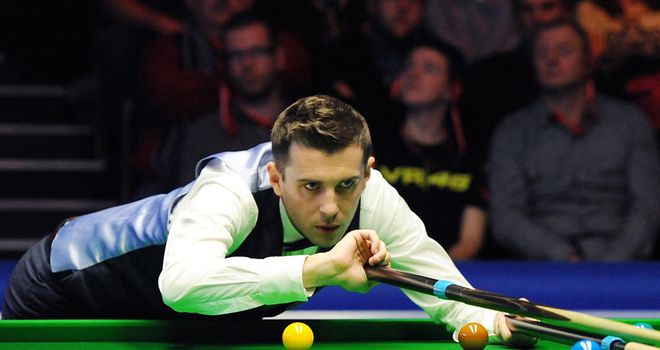 The Jester from Leicester has struggled for top form for much of 2012 and after a heavy defeat to Neil Robertson in his only match of the Premier League so far this season, Selby needs a win over Ding to keep his semi-final hopes alive.
That match is followed by John Higgins taking on Stephen Lee, who has suffered heavy defeats at the hands of Judd Trump and Peter Ebdon in the Premier League this year.
Tune into Sky Sports 4 HD on Thursday from 7.30pm to see how the matches unfold, but first read on for Sky Sports snooker expert Neal Foulds' predictions...
Mark Selby v Ding Junhui
Last week in the Premier League Ding lost 4-2 to Stuart Bingham. He didn't play badly but made a couple of errors at key moments and the match went away from him. The trouble with Ding now is he's wildly inconsistent as a player. You know how he's going to get on quite early in a match; if things aren't going well in the first 15-20 minutes his body language gives the game away that he's not feeling comfortable.
He's got a pretty good record against Selby and beat him 4-1 just last week at the Gdynia Open in Poland, which is part of the European Tour series. Their most famous match-up came in the quarter-finals of the world championships.
That was the year everybody thought Selby would win it but Ding held up better under pressure and won 13-10. So, Selby is a guy Ding won't mind playing and I don't think Selby is a player that frightens Ding that much. If the right Ding turns up I'd expect him to do well. It's got to a point in Group A where if Ding lost two matches in a row it would be difficult for him to make the semi-finals. Ding may just find a bit extra with that in mind.
Last week's match between these two in Poland will be significant because Ding will have seen how poor Selby was in that match. Selby missed a lot of long pots and seemed to be missing them all on the same side of the pocket, almost as though there was a technical issue creeping into his game.
If Selby loses this match as well then he'll find it very difficult to make the semi-finals. I'm a big, big fan of Mark Selby and I like his game, however, although he's number one in the world rankings, I can think of six players who are playing better than him, including John Higgins, Judd Trump and Neil Robertson. That ranking doesn't reflect the form he's in and in his heart he knows that.
Ever since his neck injury before the world championships I've not been impressed with him and he's not played that well for six months. He won the Paul Hunter Classic by beating surprise finalist Joe Swail a few weeks ago but that was mainly due to his good 'B' game - his 'A' game is not currently what it was and he's not devastating anyone at the moment. I'm slightly worried he's feeling the effects of a lot of snooker in the last two years.
Prediciton: I commentated on their match last week and Selby struggled. If Ding turns up motivated to take a step towards a semi-final spot I can see him winning again. This time I'll go for a 4-2 win to Ding.
John Higgins v Stephen Lee
Stephen Lee hasn't played all that well in his debut season in the Premier League. In his opening match he played Judd Trump. He missed a simple pink in the first frame to win it and he was beaten comfortably in the end. In his next match Peter Ebdon raised his game and beat him convincingly. Trump is in great form and is favourite for the tournament but Ebdon has since lost twice and I said at time I didn't think Ebdon was particularly good with the shot clock.
That suggests Lee hasn't coped that well with the format and his form isn't quite there - and now he's coming up against John Higgins at the wrong time.
Higgins has been struggling for the past year but he won the Shanghai Masters and he's coming into form. I fear there may be a little bit more misery on the way for Stephen Lee - and if he doesn't win the match he's got no hope of getting through. This looks to be a strong group and I think Lee has missed the boat with regards to qualifying.
Lee did win a PTC event in China the week before last so this is a match between the two most recent winners in China - but I think Lee hasn't adapted to the Premier League very well.
Higgins is battling with Judd Trump and Mark Allen for a top two spot - and Peter Ebdon is there too, although he's already played three matches. Ebdon and Trump have beaten Lee so Higgins will have to do so too to stay in the hunt but I'm confident he'll do that because he's looking like a different player now to the one we've seen over the past 12 months.
I've been against Higgins for a year, he's been very, very average but the way he played out in Shanghai was quite something. In the final he was 7-2 down and getting hammered by Trump but he came back with a 147 and beat him 10-9. He looked like the John Higgins who has won four world titles. It was a fantastic match and all of a sudden he looked very confident. I heard a whisper during that tournament Higgins has started practicing hard, he's got a new cue, is putting a lot of hours in and he's hungry for success again, something that was lacking last year.
Prediciton: I think Higgins will beat Stephen Lee, on the basis of what we've seen in recent weeks. Higgins has looked back to his best. He's never been a great fan of the shotclock, but even that won't stop him against Stephen Lee. I'll go for another 5-1 defeat for Lee. I'd like to see Stephen do well but I think he may just get overwhelmed by Higgins now he's back to his best.