Ding can do it
Neal Foulds says Ding Junhui can defeat Stuart Bingham and edge towards the Premier League semis.
Last Updated: 02/10/12 4:05pm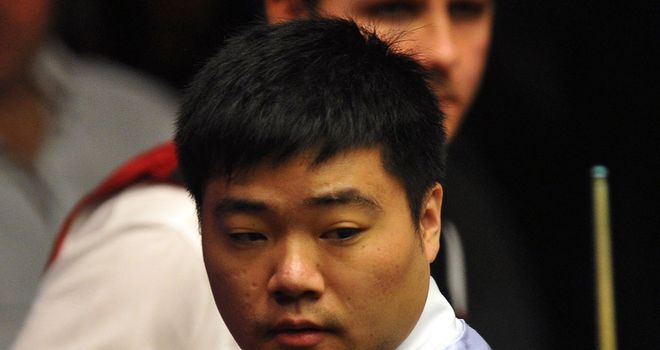 Judd Trump returns to action in the Premier League live on Sky on Thursday night.
The crowd-pleasing potter hasn't played since week one, but he's back this week to take on Peter Ebdon, who has had a mixed start to his first-ever Premier League campaign.
Before that game gets underway Ding Junhui takes on Stuart Bingham, knowing victory would propel him to the verge of semi-final qualification.
Tune into Sky Sports 4 HD on Thursday from 7.30pm to see how the matches unfold, but first read on for Sky Sports snooker expert Neal Foulds' predictions...
Stuart Bingham v Ding Junhui
We haven't seen Ding since week one of the 2012 Premier League in Skegness when I thought he played really well to beat Shaun Murphy. Murphy has said he played pretty well in that match but still lost so in many ways Ding is the player to watch.
He's not been in great form outside of the Premier League, though. His form in China recently has been, as usual, very poor. He lost in the first round of the Shanghai Masters to Mark King and although he got to the final of last week's Players Tour Championship in China - a smaller event - he lost 4-0 Stephen Lee.
He certainly feels the pressure when he's playing at home - his results in the bigger tournaments out there have been terrible - but something like the Premier League might see him in the best light. He doesn't feel the same pressures playing over here, whereas when he's in China there's a huge national interest in him.
A victory in this match would put him in a strong position in terms of qualifying for the semi-finals, considering Murphy has taken just one point from his three games and the other threat to him getting a top two place in Group A along with Neil Robertson is an out-of-sorts Mark Selby, who lost his first match to Robertson. If Ding can improve his record to played two, won two that would put him in a very good place.
Ding has never won the Premier League but he's always threatened to do so and he's been involved in some terrific matches over the years - and I would expect him to beat Stuart Bingham.
Stuart will be kicking himself after his only match in this year's Premier League so far ended in a 3-3 draw with Murphy. He was 3-0 up and 50-odd points ahead in the fourth frame and somehow only got one point out of the match. That will have disappointed him greatly.
Prediction: Bingham is an open player and he's the kind of player that Ding enjoys playing against. Bingham attacks early on, but there aren't many players who play that game better than Ding. I think Ding will win this fairly easily, either 4-2 or 5-1.
Judd Trump v Peter Ebdon
I was commentating on Peter Ebdon's last match in the Premier League, which he lost 4-2 to Mark Allen. Ebdon threatened to go on and win that match but Allen took a couple of key chances.
Despite the defeat Ebdon played well in spells and has already shown us by beating Stephen Lee 5-1 in his first ever Premier League match a few weeks ago that he is in good form.
However, he's got his work cut out here. Judd Trump tweeted earlier this season about Ebdon's slow play. I don't think there's any needle there but Trump will be keen to add to his 5-1 win over Lee and I can't see Ebdon winning this one.
This could be a very easy win for Trump, who impressed in his opening match in week one. We've not seen him in the Premier League since then but he did get to the final of the Shanghai Masters, where he lost a great match to John Higgins.
It was a strange game because Trump was 5-0 up and then we saw a 147 break from Higgins. All of a sudden Higgins started to play well and I don't think Trump did a lot wrong.
It was a strange tournament for Trump because in his first match he was 3-0 down against Barry Hawkins before eventually getting over the line and he looked like he was getting better and better during the rounds.
However, in the final he came up against Higgins who was playing as well as he has done since he won the world title for a fourth time. So Trump was a little unlucky and if he has got over that disappointment I expect him to do well here.
This format suits his game perfectly; he is tailor made for this shot clock. The only other player better suited is Ronnie O'Sullivan, who's not playing this year.
Trump's very fast around the table and has the knack of winning frames in six or seven minutes. You can shake hands with him at the start of a match and then, all of a sudden, before you know where you are, you can be two frames down in 15 minutes.
Prediction: This could be another 5-1 win for Trump. In this format Trump will have too many guns for Ebdon and I can't imagine how Ebdon will be able to out-score him, out-think him or out-manoeuvre him with only 25 seconds per shot.