Peter perfect?
After his surprise Premier League win, Neal Foulds wonders whether Peter Ebdon can do it again.
Last Updated: 25/09/12 3:48pm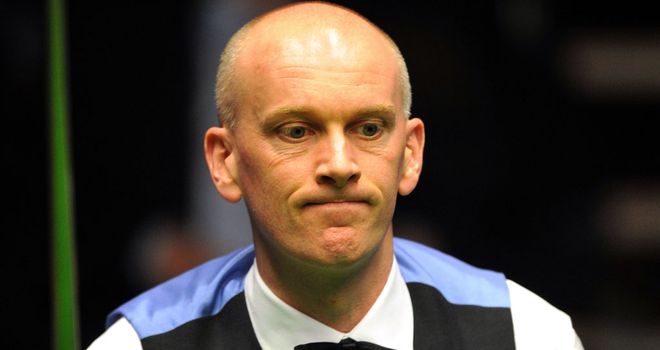 After battling back from 3-0 down to salvage a draw against Stuart Bingham and keep his Premier League play-off hopes alive Shaun Murphy enjoyed a fine run at the Shanghai Masters last week. The Englishman finally fell to eventual winner John Higgins at the semi-final stage, but will no doubt be buoyed by good run in China.
Murphy takes on Neil Robertson in the second match of the night at the Spiceball Leisure Centre in Banbury on Thursday night, live on Sky. His Australian opponent has always struggled with the Premier League format in the past but stunned world number one Mark Selby 5-1 last time out. However, his 5-0 defeat to training partner Joe Perry in Shanghai would have done little for his confidence.
Before that match-up Premier League new boys Mark Allen and Peter Ebdon go head-to-head. Allen got off to a frustrating start losing 4-2 to John Higgins, while Ebdon - renowned for his slow play - surprised many by mastering the shot clock and beating Stephen Lee 5-1.
See the action unfold on Sky Sports 3 HD on Thursday from 7.30pm, but first read on for Sky Sports snooker expert Neal Foulds' predictions...
Mark Allen v Peter Ebdon
After watching Peter Ebdon beat Stephen Lee 5-1 in week two of the Premier League, I have to hold my hands up. I didn't expect the 2002 world champion to be as effective in the Premier League as he has been in other formats, where he has been the form player over the past six months. But he played tremendously well to beat Stephen Lee and proved to a lot of people he can play more quickly. Credit to him - although people will wonder why he can't play more quickly more often now!
Like Ebdon, Mark Allen is new to the Premier League and I expect the format to suit his style. He lost his opening match of this year's edition 4-2 to an out of form John Higgins but, as with all players, he'll be better after getting that experience against the shot clock.
Last week Allen was a little flat at the Shanghai Masters where he surrendered a 2-0 lead to lose 5-2 to Judd Trump, but I still think he has a lot to offer the Premier League and a point to prove.
This will be a tight, entertaining match and an interesting clash of styles. Allen needs something, because another defeat would not be good for his chances but if Ebdon can reproduce the form he showed against Stephen Lee then he'll be a tough opponent for Mark.
Prediction: I think this match will be a close one. A draw is a big factor in these league games. For someone to win they have to win four out of six which is quite a lot so I'm going to say this one will be a 3-3 draw.
Neil Robertson v Shaun Murphy
This is a must-win match for Shaun Murphy. He played well but lost a tough match to Ding Junhui on the opening night of the 2012 Premier League season and looked to be down and out against Stuart Bingham in week three. He was 3-0 down to Bingham and a long way behind in the fourth before producing a break of 88 and scrambling a draw out of the match. That was a real lifeline for the 2009 Premier League winner but a win against Neil Robertson would put him back on track.
Robertson played particularly well in his first 2012 Premier League match to beat world number one Mark Selby 5-1 but that came out of blue really, because he's not got a good record in the league at all. It's a format that for one reason or another he's always struggled with. His form hasn't been great for a long time, either: he had a very disappointing result against Joe Perry in Shanghai, where he lost to his practice partner 5-0 at the round of 16 stage.
We've never seen the best of Robertson in the Premier League, but Murphy was someone I fancied to do well before the tournament and he did fantastically well to keep his play-off hopes alive against Bingham. He'll be well placed to progress from Group A if he can beat the Australian - although Murphy knows if he loses to Robertson he'll be as good as out of it. The pressure's on.
Prediction: Murphy played very well in Shanghai and I feel his fight back against Stuart Bingham last time out in the Premier League could be a turning point for him. Robertson meanwhile is playing off the back of that very disappointing defeat to Joe Perry, which isn't easy to do. Tough defeats like that can affect you as a player. I'm going for a 4-2 win for Shaun Murphy.