Shaun on song
Neal Foulds says in-form Shaun Murphy can get his first 2012 Premier League win in Carlisle.
Last Updated: 12/09/12 9:48am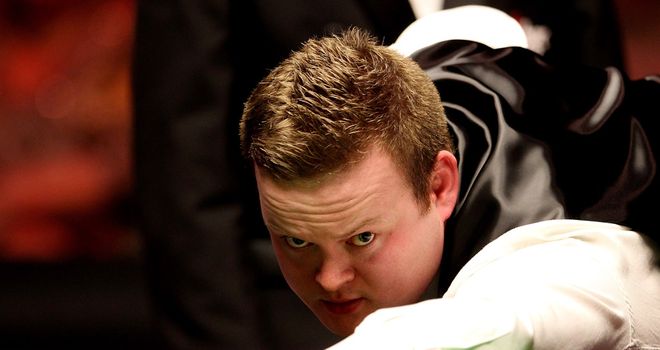 Shaun Murphy returns to Premier League action live on Sky on Thursday and the 2009 champion will be desperate to get his first win of the tournament against Stuart Bingham, after going down 4-2 to Ding Junhui in week one.
Following that clash four-time world champion John Higgins meets Mark Allen. The Wizard of Wishaw has struggled to recapture his best form since his 2011 victory at the Crucible, while World Open winner Allen has been tipped to have a good tournament, with the Northern Irishman famous for thriving in front of the big crowds.
Read on for Sky Sports snooker expert Neal Foulds' predictions and then tune in to the action live from The Sands, Carlisle on Sky Sports 2 HD on Thursday from 7.30pm.
Shaun Murphy v Stuart Bingham
Last week I suggested Steven Lee's first week defeat would stand him in good stead for his clash with Peter Ebdon. His 5-1 defeat, however, shows how tricky it can be to predict Premier League results! Shaun Murphy, though, has plenty of Premier League experience to call on, other than his 4-2 defeat to Ding Junhui a few weeks ago on the opening night of this tournament.
Shaun is the only player to have won the tournament during Ronnie O'Sullivan's reign, lifting the title in 2009, and is a very good Premier League player.
His opponent, Stuart Bingham, is also a very talented player. He's quick enough around the table that the shot clock won't affect him and he's probably playing as well now as he has ever done. If you go back to 2000, when he beat Stephen Hendry at the Crucible, it looked like he was going to come through then.
But it took him a long time to win his first ranking event, which he did last summer. Stuart's always liked the Premier League. He's never played in it, but he has always watched it and now this is his chance to show what he can do. However, this is a tough opener for him.
Shaun didn't have the greatest season last year but I think he's turned the corner now. Sometimes he can be too attacking - he never takes a step back - and if the pots don't go in he can give his opponent too many chances. But he reached the semi-finals of PTC3 last week and, if he's cuing well on Thursday night he will be very difficult to beat.
Prediction: I don't think Shaun did a lot wrong against Ding - Ding just played very well towards the end of what was a high-standard match. However, Shaun can't afford to lose another and I expect him to come through 4-2.
John Higgins v Mark Allen
Two years ago, returning from his ban, John Higgins won the UK Championship and World Championship. However, since then his form has completely gone and he hasn't shown any signs so far this season that he's on his way back to his best. 2011 was a very difficult time for him.
Although things were going right for him on the table in the second half of the season, off it his father, who was always alongside him, was very ill and died before John's World Championship success. It was a year of tremendous highs and incredible lows. I think last season was perhaps an anti-climax after that and his performances were a little flat.
That was encapsulated in his awful performance at the World Championships, where he was thrashed by Stephen Hendry. Hendry was then hammered by Stephen Maguire and retired, which didn't reflect very well on John's performance.
This season he's already lost to my good friend Alfie Burden at last week's PTC event, and was well beaten by him, so I don't think he's playing very well. I suspect, knowing the class of him, he'll come back but he needs to rekindle his enthusiasm for it.
In contrast Mark Allen is a dark horse of mine. I think he'll thrive playing in front of big audiences; he gets pumped up for the big occasions and there's always a good atmosphere in the Premier League. That pressure suits him and I expect him to do well.
With each match, as he gets used to the shot clock, I expect Allen will get better - while I'm not sure Higgins has ever got used to it! When it was down to 20 seconds last year (it's 25 seconds this season) he was pretty vocal about it and didn't think it was long enough - although, it was OK for Ronnie O'Sullivan and Judd Trump, who weren't complaining. Now Higgins has got this nagging doubt in the back of his mind that playing under time restrictions doesn't really suit him.
Prediction: Not only is Higgins not suited to the format but I don't think he's played well for a year now. I still think this will be a tight encounter, though, and I'm going for a 3-3 draw.