Smiles for the Jester
Neal Foulds says Mark Selby could be a dark horse for the Premier League title in his week two preview.
Last Updated: 04/09/12 1:16pm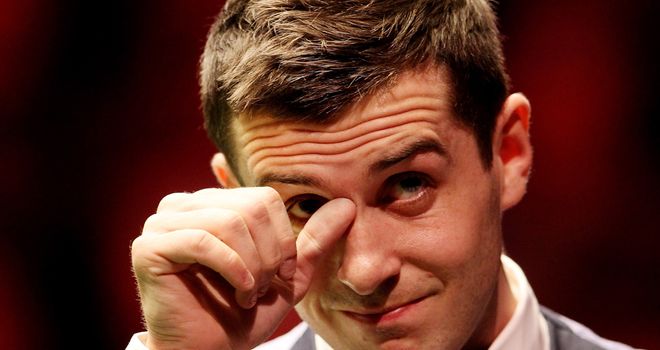 After a crushing defeat by hot favourite Judd Trump in the opening match of the 2012 Premier League, Stephen Lee is back on the table for week two of the tournament on Thursday.
This time the Wiltshire potter is up against a player he's had a colourful history with: Peter Ebdon. Following that match, world number one Mark Selby, fresh from success in the Paul Hunter Classic in Germany, takes on 2010 world champion Neil Robertson in a mouth-watering tie.
Read on for Sky Sports snooker expert Neal Foulds' predictions and then tune in to the action live from the Biddulph Valley Leisure Centre on Sky Sports 4 HD on Thursday from 7.30pm (via the red button).
Mark Selby v Neil Robertson
It was good to see Selby get back to winning ways at the Paul Hunter Classic two weeks ago because he's had a miserable time this year. Back in March he had to pull out of the China Open with a neck injury and then, still suffering, lost 10-3 in the world championships to Barry Hawkins.
Hawkins is a good player and has won a ranking event since then, but Selby was nowhere near his best. At the start of the season he said his neck was now 90 per cent right - but that made me think 'if that's the case it's 10 per cent wrong', which isn't good.
I watched some of his early matches at the Paul Hunter Classic and he struggled, but he got better as the tournament went on and he is still world number one by some margin, don't forget.
He isn't the quickest player - although he's nowhere near as slow as Ebdon - but the one time he played in the Premier League he got to the final in 2008, where he lost to Ronnie O'Sullivan, so he's obviously able to cope with the format.
He's got a chance of going all the way this time, too. He's the kind of player who, forced to play more quickly than usual, may actually become more fluent. Judd Trump is still my tip for the overall title but Selby could be a dark horse.
Robertson, meanwhile, is the enigma of the Premier League. Most years he's been propping up the table, going nowhere and not playing well, although he made the play-offs by the skin of his teeth last year.
But Robertson is a class act, a top-four player and former world champion and I think this could be a really good match. The Premier League is the one thing missing from Robertson's CV so he'll be desperate to do well.
Prediction: I'm going for a 4-2 win to Selby. The Englishman will be confident after his win in the Paul Hunter Classic and Robertson hasn't played that well this season.
Stephen Lee v Peter Ebdon
My predictions for the 2012 Premier League got off to a perfect start when Trump beat Lee 5-1 in the opening match of the tournament, as I'd suggested he would in my preview column.
Lee is an experienced player but I suspected playing under shotclock rules would be quite tough for him and it proved to be so. He missed a very gettable pink in the first frame which would have put him 1-0 up, and he never really recovered from that, losing the next five frames before scoring a consolation.
However, he was playing the most dangerous player in the whole competition in Trump, who is the clear favourite to take the title. It was Lee's first-ever Premier League match and with that experience under his belt he'll now know what he's up against.
His next opponent, Ebdon, is a complete contrast to Trump. The 42-year-old is one of the slowest players in the game and, I'd suggest, someone to oppose in this format. Nothing would surprise me in snooker - he could still play well playing quickly - but instinctively he isn't a quick player and I think the 25-second shot clock will disrupt his routine.
Whereas some players see a shot and instinctively get down and play it, he takes a more considered approach, which will be put under pressure by the time limit. He also wears his opponent down by playing slowly, but that tactic won't apply here.
Ebdon - never the most conventional of players - has also altered his diet to try and improve his game. He's now a full vegan and will only be eating raw food throughout September. A healthier lifestyle over the past few months has helped him improve his game and it will be interesting to see what impact this approach has!
There's actually a bit of spice to this match-up. A few years ago these two didn't even speak to each other. It started when Ebdon beat Lee in the world championships and celebrated so vigorously that Lee refused to play with Ebdon for England in the World Cup the following year. However, they seem to have moved on from that episode.
Prediction: I'm going for a 4-2 win for Lee. I can't see Ebdon getting whitewashed but I still expect him to struggle in all of his matches and think Lee, who is the more fluent player, will fancy his chances.