Top Trump
Premier League snooker returns on Thursday - and Judd Trump is the man to beat, says Neal Foulds.
Last Updated: 04/09/12 9:47am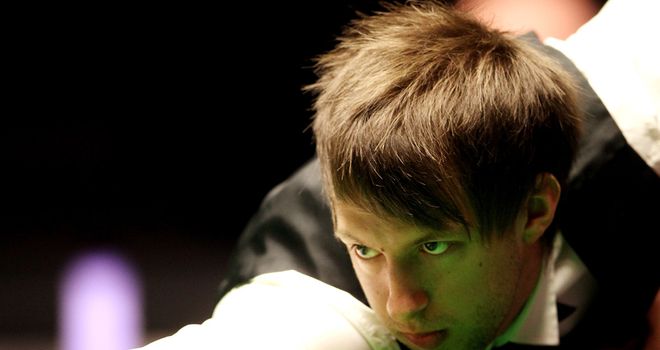 Premier League Snooker returns on Thursday with a new format, giving ten of the world's best players the chance to claim the coveted title in the absence of reigning champion Ronnie O'Sullivan.
The players will be split into two groups of five and play each other in their group once. The top two from each group will then progress to the knockout weekend in Grimsby on 24-25 November for the semi-finals and final.
Sky Sports expert Neal Foulds will preview each round of the competition, but first here's his verdict on the players vying for the 27th Premier League crown...
Mark Selby (World Ranking: 1)
Mark is the world number one and qualifies for this event with his victory in September's Shanghai Masters. However, he's only ever won two ranking tournaments - he also took the Welsh Open title in 2008 - and to be quite honest I'm slightly worried about his form. He had to pull out of the China Open in March with a neck problem and then lost in the first round of the World Championship 10-3 to Barry Hawkins. He is saying it is 90% better now but there is clearly a problem there. He's got to watch that he doesn't get burnt out. He's played in the Premier League with a shot clock once before and reached the final in 2008, where he lost to Ronnie O'Sullivan, so he's very capable, but doesn't come in to this tournament in the best of form and is a slight concern.
Judd Trump (World Ranking: 2)
In the absence of Ronnie O'Sullivan, Judd is the box office player in this tournament and is absolutely suited to this format. He qualified with his victory in the UK Championship and, considering his form over the past 18 months, in which he's also taken the China Open, reached the final of the World Championship and the semi-finals of the Masters and last season's Premier League, he's just about favourite in my book. The 25-second shot clock (which has increased from 20 seconds) won't affect his game in any way. He'll be pleasing fans all across the country with his game.
John Higgins (World Ranking: 5)
John qualified for the Premier League as a wild card after Ronnie O'Sullivan's decision not to take part, but he's never seemed to enjoy the format. I'm sure he's pleased to be involved and will be desperate to win - he's won virtually everything else - but it's not a format in which he's ever really shone. He felt last season that the 20 second limit was not long enough for him and, even with the addition of five more seconds for this edition, he still needs time to build himself up for his shots.
Shaun Murphy (World Ranking: 6)
Shaun enjoys the Premier League. He's the only guy to have interrupted the reign of Ronnie O'Sullivan, winning the title with a 7-3 victory over the Rocket in the 2009 final. However, he had a horrible season last year and didn't make the PTC Grand Finals, which he had won the year before, and didn't have enough points to make it into the semi-finals of the Premier League. He'll be looking to do better this time round after qualifying by winning the Brazilian Masters and he's a great pro, so I expect him to have better season this year.
Neil Robertson (World Ranking: 7)
Neil's a class act. I thought he'd win the World Championships but he ran into Ronnie at the top of his game and was overwhelmed by him there. He will be disappointed he didn't do better in Melbourne, his home city, earlier this year, and his form in the early season hasn't been great. He's not got a fantastic record in the Premier League either, but, qualifying as winner of the Masters, I'm sure he'll be able to use his experience to do better.
Stephen Lee (World Ranking: 8)
Stephen won a lot of money with his victory in the PTC Grand Finals and will be hoping to do well in his first Premier League campaign. He is a stocky lad but he's not slow around the table. In fact, I think he's the kind of player who could benefit from the shot clock. Sometimes he gets bogged down thinking about his shots too much. You can't do that in the Premier League, you have to be instinctive, and he's better when he's like that. I wouldn't be surprised if he has a good tournament.
Ding Junhui (World Ranking: 11)
I thought Ding would have won this title by now. He's very up and down and there's a huge difference between his best and worst form, but I remember a Premier League match where he beat Stephen Hendry 6-0 and Hendry didn't pot a ball until the last frame. He's capable of playing sublime snooker but he's a bit Jekyll and Hyde. He qualifies with his Championship League win and hopefully we'll see the best of him.
Mark Allen (World Ranking: 12)
The World Open winner is an interesting player. This is the first time he's played in the Premier League and I think it will suit him. He's quick, fiery and loves playing in front of big audiences. He's a very instinctive player, likes the big occasions and I think he'll do well. In fact, he's my dark horse for the title. Judd Trump is my main choice but Allen can have a good tournament.
Stuart Bingham (World Ranking: 16)
Stuart and Mark Allen are bitter enemies but, as they're not in the same group this year, they won't meet unless they both make the semi-finals. If they do then that will be some grudge match! Stuart's having a good time of things at the moment: he won one of the Asian PTC events, got beaten in the final of the Wuxi Classic in China and won the Australian Open last year. He's always been a good player - he's made three 147s in open play - and will love the Premier League. Whether he is good enough to win it, I'm not sure, but it's good to see him in it.
Peter Ebdon (World Ranking: 20)
I'm a big fan of the way Peter has recovered his form but I don't think he can possibly win the Premier League. I'd like to see him do well but he'd have to speed his game up to win this. He's much better when there are no restrictions, as he showed by winning the China Open, but with the shot clock in place he'll be up against the pips a lot. He has a process he goes through for every shot and, unfortunately, he's one player this format will work against.
Where's Ronnie?
He's won eight of the previous nine Premier Leagues, but Ronnie O'Sullivan has opted not to defend his title this year. He took a break from the game after winning the World Championship and had some issues with the board over his commitments. It seems he'll be back in October now, but I'm mystified as to why he's not playing in this. I can understand him wanting a break but this would have been a good way to ease himself back in to it. But now the decision has been made that he's not playing it's important to focus on the players involved. Someone else will win the title this year - and they won't give a hoot he wasn't there. He's the one losing out and will probably watch it on telly and - although he won't admit it - be disappointed he's not there. I'm disappointed too but, if he doesn't want to play, there's nothing else we can do.
WEEK ONE
Ding Junhui v Shaun Murphy
This is a very attractive match between two of the leading players in their group. It's an important one, too, because whoever wins this will set themselves up nicely for the rest of the group phase and give themselves a good chance of progressing to the semi-finals. However, don't forget there are draws in this format of the game and, with this set to be a close contest, that's a likely outcome.
Prediction: It's too close to call - I'm going to go for a 3-3 draw.
Judd Trump v Stephen Lee
Trump will win this one. Lee is very capable but I think he'll take a match or two to find his feet. Lee will be better for the run out because he's never played in the Premier League before, although he won the Sky Shootout last year, so has shown he can play quickly. However, he's walked into one playing Trump in his first match.
Prediction Trump will run away with this match and win 5-1 - and then go on to win the title!