Round control
Ronnie O'Sullivan's fourth world title and Stephen Hendry's retirement. Neal Foulds talks snooker...
Last Updated: 08/05/12 5:23pm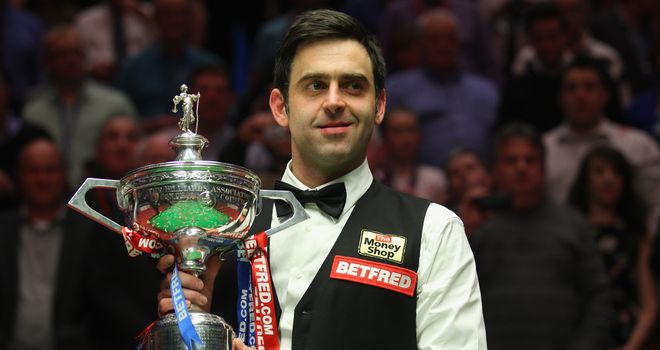 It seemed unlikely that Ronnie O'Sullivan could go two and a half weeks without something troubling him but he did - and he is now a four-time World Champion.
I don't know why Ronnie was so in check with his emotions throughout the tournament but he was very much up for it this year, and won snooker's most prestigious event in style.
The Rocket had to negate a very difficult draw; he beat three World Champions just to get to the semi-finals but always looked one step ahead in all of his matches.
O'Sullivan started off quite rocky against Peter Ebdon in the opening round, but he then made light work of Mark Williams, whose record against Ronnie isn't very good.
The sticky match was against Neil Robertson in the quarter-finals, which I'm sure the bookies would have had a hard time selecting a favourite for, but he was marvellous in that and probably delivered his best display of the competition.
I was also impressed by his performance against Matthew Stevens in the semis, even though not a lot was made about it.
Stevens played as well as he has in a long time - if not ever; his safety was incredibly tight, he was potting long-range and yet he lost 17-10. That shows you what form Ronnie was in.
Ronnie was probably only at about 70 per cent in the final but he was playing a guy, in Ali Carter, who had not beaten him in 11 tries and you always thought he would have enough. He was tested during the tournament, but managed to remain in control of every round.
O'Sullivan also looked genuinely proud of himself when he beat Carter to lift the trophy. Sometimes he has the same expression whether he has won or lost but it was great to see him revelling in his success.
Skilful
I only ever made the Crucible semi-finals on one occasion but I found it mentally tiring; there are sessions where you are struggling with your game and you have to get through that as best you can and come back and start a fresh. That's not always possible.
Ronnie is someone who can do that, as he has proved by winning this event four times, despite often being criticised for having a short attention span.
O'Sullivan is well into his thirties now but I would think that he might have one more championship in him. I can't see him going on for that much longer, but he does have a wonderful game and the real skilful players last longer than the rest.
No-one has defended this title since Stephen Hendry in the 1990s so to say that Ronnie will win it next year and possibly match the Scot's record of seven world titles is premature.
If he does win it again, though, and take his tally to five, he would be a modern-day great, if he is not already. There are more good players now than during the eras of Steve Davis and Hendry and his record stands up to theirs. He is a wonderful player.
Ronnie has speculated that he may retire, but he has said that before and always comes back. I think he gets caught up in the heat of the battle sometimes and says things at the end of long tournaments when you just want to get away from snooker.
It's a bit like when you have a big dinner and you feel like you don't want to eat again and then the next day your appetite returns. He's not ready to say goodbye to the sport just yet.
Accomplished
Hendry is, from a playing perspective anyway, having announced his retirement from the professional ranks.
Stephen Maguire, who beat Hendry in the quarter-finals, says the seven-time World Champion may have retired too soon, but he would have wanted to leave on a high, which he certainly did, racking up a 147 and knocking out reigning Crucible king John Higgins.
If he had carried on, there might have come to a point in two or three years' time where he doesn't qualify for Sheffield and gets forgotten. He has gone out with his reputation intact.
Stephen is the most successful and accomplished player we have ever seen, even though in natural talent terms O'Sullivan leaves everyone for dead. I played him when he was a 16-year-old and I managed to beat him on that occasion - but not after that!
His will to win was immense and to capture seven world titles whilst being an absolute red-hot favourite is a tremendous achievement. He successfully defended the crown four times and was a master at handling the pressure.
He was a ruthless man on the table but he is an equally nice guy off it. He is up there with the likes of Steve and Joe Davis as the best player ever and you can't pay him a higher compliment than that.