A league of his own
Neal Foulds reflects on another Premier League triumph for 'The Rocket' Ronnie O'Sullivan.
Last Updated: 28/11/11 12:51pm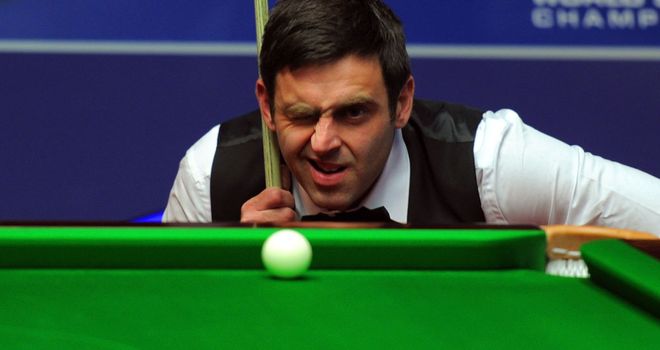 As Ronnie O'Sullivan raced to a crushing 7-1 victory over Ding Junhui in the final of the Premier League on Sunday it seemed like a long time ago when I was driving up to Skegness to watch round one in the middle of August, with the sun burning down.
But there is something quite charming about the Premier League format, which starts in summer, stretches over months and seasons and leaves us with a winner just as the Christmas decorations are going up.
However, while the seasons change, the winner of the Premier League doesn't seem to. The Rocket has now won ten Premier League titles - and seven of the last eight since the shot clock came in.
This year I sensed that Ding may have been able to cause him more problems than he did. Instead it seems that when people play O'Sullivan in the Premier League they really don't fancy their chances.
Not invincible
In the semi-final O'Sullivan showed he wasn't invincible and Mark Williams had chances to win that match. Ding, in his final-four match, beat Judd Trump and looked in with a chance of ending Ronnie's reign.
But in the final he just didn't play at all.
Ding was unsettled early on and, after Ronnie had a bit of good fortune in the first two frames, the former world number one galloped away and was an impressive winner.
Unfortunately that seems to have become a feature of Ding's game. He played well against Trump and showed his experience but when things go wrong early on for him his head seems to drop.
On a good day when things go well early on he's devastating but when the chips are down his 'B' game isn't up to scratch.
He needs to look at that because you can't play well in these games all the time. You need to find a way of winning and I don't know if Ding is very good at that.
Red hot Ronnie
O'Sullivan, meanwhile, always looks red hot in the Premier League. While he hasn't looked like winning a major ranking tournament for a number of years he always seems to produce in the Premier League.
However, I wouldn't be rushing out to back him to win the UK Championship, which starts in December.
After winning the Premier League in equally convincing style last season he went to the UK Championship and just smashed the balls around against Stuart Bingham. He's got nothing to prove but he needs to reassure people he is still the player he was.
Reflecting on the tournament as a whole, I know the new format hasn't been to everyone's tastes as not everybody had to play each other. I understand there may be further changes but it has certainly been exciting right the way through.
And it proved that, no matter what you do to the Premier League format, the cream rises to the top.
The players played in front of packed houses all around the UK and people were queuing up to watch the Premier League. That's the beauty of this tournament and what inspires players like O'Sullivan.