Top Trump contest
Neal Foulds would love to see Judd Trump take on Ronnie O'Sullivan in the Premier League final.
Last Updated: 24/11/11 4:54pm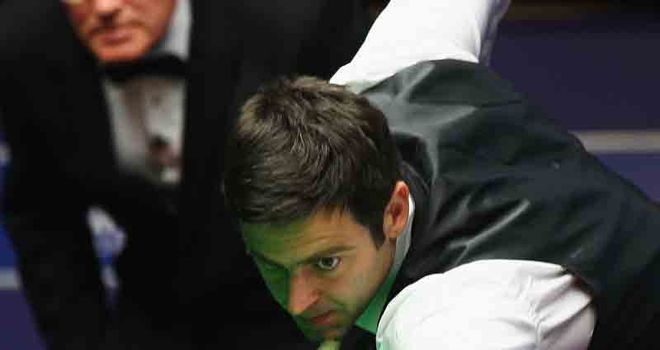 It was never in doubt, it seems.
Ronnie O'Sullivan timed his run perfectly to finish top of the Premier League table and book his place in this weekend's semi-finals.
The defending champion has a happy knack of rising to the occasion no matter what format he plays and so it proved again as he beat Shaun Murphy 3-1 in Grimsby to finish top of the pile.
This weekend O'Sullivan will attempt to win his ninth Premier League title in 12 years at the Potters Leisure Resort in Norfolk and it's hard to look past him.
Two years ago Murphy beat him to the title but, without detracting from Murphy's achievement, we'll never know how big an impact O'Sullivan's decision to run the Norwich half-marathon on the day of the final contributed to the result.
Never dull
Whatever you say about Ronnie, he's never dull even if his low boredom threshold does sometimes get the better of him! In fact the bigger the tournament, the more likely it seems that Ronnie might do something out of the ordinary!
For instance, he virtually gave the ghost up as he lost to Stuart Bingham in the first round of last year's UK Championship; he was virtually smashing the balls around at the end.
I can't see him doing that in the Premier League or one of the PTC events. He certainly seems to be up for it in this form of the game, perhaps because he has such a proud record to maintain.
That said, he did suggest that he won't be playing Premier League snooker next year but I'm not so sure; I think he may have simply been trying to make a point about the schedule.
No-one seems to know why he isn't playing in the 2012 Shoot-Out but perhaps it's because he fells the fixture list is too congested.
I'd have thought that he'd love to play in that tournament - he certainly seemed to enjoy himself at last year's event, where he reached the semi-finals.
But I'm not going to over-analyse Ronnie; we have to enjoy him for what he is and accept his quirks. The Premier League is the one tournament where you can as good as guarantee you will get 100 per cent out of him.
Scramble
His opponent this weekend, Mark Williams, can probably consider himself a little bit fortunate to qualify for the play-offs.
Williams had to win a frame against John Higgins in the final in Banbury to book his spot and he just about managed to scramble one. It was the only frame he looked like winning on that occasion.
Having qualified by the skin of his teeth, the one player he wouldn't have wanted to run into is O'Sullivan.
He won't have fond memories of the time they met in the 2005 Premier League final when O'Sullivan whitewashed him 6-0.
I've seen nothing this season to suggest that Williams can come out on top this time even if he is as committed as they come.
Williams may have won the scramble for that fourth spot but he has got work to do now; I'm not saying he can't win but it will be a shock if he does beat O'Sullivan in this format.
Focus
Ding Junhui - normally one of the most exciting players around - takes on Judd Trump in the other semi-final after what I can only describe as a fairly quiet campaign.
Aside from his excellent victory over O'Sullivan in Week Eight, the only other match that sticks in my mind from his campaign came in Week Six, at Stoke, where Ali Carter failed to take advantage of the three-misses rule and Ding went on to win the final 3-1.
Overall, I'm not sure that Ding has played that well so far but when he has got a whiff of victory he has pounced on it.
That may be a bit hard on him but I think even he would admit that he could improve his long game. He has always been a brilliant scorer - at his best he is deadly and possibly second only to O'Sullivan - but at times he has missed by a very wide margin.
That's what puts me off him a little bit this weekend.
That said, we are coming up to a very important part of the season for these players and it may well be that the prospect of the UK Championships gives his game the focus it needs.
Calling it now, I'd back Trump to beat Ding even though he went down 3-0 to Murphy last week in Grimsby.
That defeat may have been a reaction to his match against O'Sullivan in the Antwerp Open - one of the best finals I've seen.
Both players played some incredible snooker. O'Sullivan performed just as well as he can play and missed one pot in the whole match and lost the best-of-seven contest 4-3!
O'Sullivan took the honours 3-2 when the pair met earlier this month in Southampton, despite Trump's brilliant break of 139 in the first frame.
In my view, the dream final would pair O'Sullivan and Trump together again - particularly as the final is a best-of-13 clash; just ask the crowd in Antwerp, who were left yearning for more.