Trump card
Can Judd Trump begin his Premier League campaign in style? Neal Foulds reckons so...
Last Updated: 05/10/11 1:08pm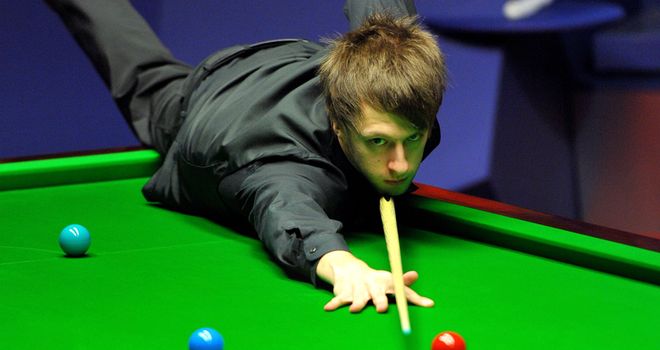 I'm really looking forward to seeing how Judd Trump performs on Thursday.
The Bristolian has had to wait patiently over the first four rounds of this year's Premier League, but kicks-off his campaign down in his neck of the woods in Weston-super-Mare.
Judd wasn't an unknown before he got to the 2011 World Championship final; snooker followers have been aware of his talent since he was a 12-year old, but that run in Sheffield catapulted him into the minds of the wider public.
He knocked out the reigning champion Neil Robertson on the opening day, got all the way to the last two and very nearly beat John Higgins in the final.
But that elicits pressure, because now people are expecting him to win consistently. Judd has done brilliantly but this is the next step - performing on a regular basis.
The first thing he did after his Crucible run was to spend his hard-earned winnings on a shiny new car. That set the alarm bells ringing and I wondered how hungry he was for further success.
But Judd has begun this season solidly. He won a PTC event in Gloucester in August, beating Ding Junhui in the final, and played some great snooker in Poland last week.
Daunting
Trump's not the sort of character that will put undue pressure on himself, but he could find it daunting playing in front of his pals and people that will be desperate for him to win.
John Higgins struggled at Motherwell a few weeks back in front of his home fans and you ask Jimmy White, over the years all that fervent support he gets has sometimes been counterproductive. I hope Judd is not overawed.
He's got a very stiff introduction on Thursday when he will play Mark Williams, who has won his only two matches so far.
They both came back in week two, though, so you wonder whether the Welshman will have lost any of his momentum?
However, he could hardly have made a better start. The table is quite congested at the minute so if Mark can win two matches in Weston-super-Mare he could almost have one foot in the semi-finals.
His contest with Trump could be a cracker as both are very attacking and gifted players. It's a hard match to call.
I think the bookies will just favour Williams and his experience, but I'm hoping all Judd's success makes him feel ten feet tall. I think the youngster might just nick the match - and the final later in the night.
Ups and downs
In the evening's other semi-final, Matthew Stevens faces John Higgins. It's hard to gauge what sort of form they're in because both have had ups and downs over the first few weeks.
Stevens won the opening night of this year's Premier League, beating Higgins in the final, but suffered a 3-0 loss to Ronnie O'Sullivan in the Doncaster Dome last time out.
The Scot, meanwhile, has suffered two whitewashes since his win over Jimmy White in Skegness. Neither player has been able to generate real impetus.
Compared to Trump and Williams, Higgins and Stevens are a bit more methodical. Stevens was a tearaway junior who used to rampage around the table and knock everything in, but as he's got older he's got a bit more streetwise.
He's also fallen back in love with the game. Like his countryman Williams, Stevens lost his snookering mojo. He had other things going on, such as poker, and spiralled down the rankings - but now he's realised this is what he wants to do with his life.
He is helped by the new structure that Barry Hearn has implemented; with tournaments every week, there is no time for his mind to drift away. It has really rejuvenated his form.
However, Higgins will be on a revenge mission after losing to Stevens the last time they met and I think his steely determination could see him edge his opponent 3-2.
But if Trump starts well, the night could be all about him.