Selby stunned by Burnett
Murphy and Lee book places in the last eight
Last Updated: 11/07/12 4:49pm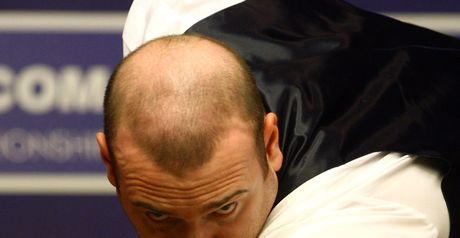 Jamie Burnett: Knocked out Mark Selby
World number one Mark Selby was beaten 5-3 by Scot Jamie Burnett as the shocks continued in the Australian Goldfields Open.
Burnett led 3-1 at the interval and with Selby struggling badly with his potting, the Scottish world number 37 closed out the match to set up a second-round meeting with Marco Fu.
"It's a very big win," Burnett told worldsnooker.com.
"Any win over the number one player in the world is a good win. Whether you play well or not, it is important to get the win over these guys if they don't play at their best which they normally do.
"It was a decent game in patches, some of the time it went a bit scrappy but you can't always have big breaks all the time. I'm just glad to get through."
Selby is left to face a long flight home to the UK and believes the fourth frame was a turning point.
"I didn't really get into it, Jamie seemed to block me out from the start. I think the fourth frame was a huge turning-point.
Fluking
"I was 40 behind and I had a good break to get me back in and snookered Jamie to get the initiative and he ended up hitting the yellow and fluking it into the middle pocket to go 3-1 instead of 2-2."
Ding Junhui knocked in breaks of 53, 68, 113 and 76 as he whitewashed Alan McManus 5-0 and will next play Peter Ebdon.
"I hadn't played Alan before, I know that he is a very good safety player," said Ding. "He missed a couple of balls, easy ones, and left me easy chances to take the frame.
Barry Hawkins also sealed his place in the second round by beating Xiao Guodong 5-1, while Martin Gould saw off Ken Doherty 5-3 despite suffering with food poisoning.
Shaun Murphy is through to the last eight as he brushed aside Tom Ford 5-1, aided by breaks of 80 and 95.
"I've been practising hard and I knew that my game was in good shape and I'm pleased that it came together," said Murphy.
"I was a little bit lucky at times and Tom had some really bad luck, he had a couple of bad kicks at the wrong times and lost position and a couple of safety shots where he left me reds when he couldn't have known that he was going to. But when I got my chances, I took them."
Stephen Lee joined him as he overcame Jamie Cope 5-2 with breaks of 71, 126 and 51.
Wednesday results:
1st round: Ding Junhui 5 Alan McManus 1, Barry Hawkins 5 Xiao Guodong 1, Jamie Burnett 5 Mark Selby 3, Martin Gould 5 Ken Doherty 3.
2nd round: Shaun Murphy 5 Tom Ford 1, Stephen Lee 5 Jamie Cope 2.