Flying start for Robertson
'Thunder from Down Under' sends out ominous message
Last Updated: 09/07/12 7:48pm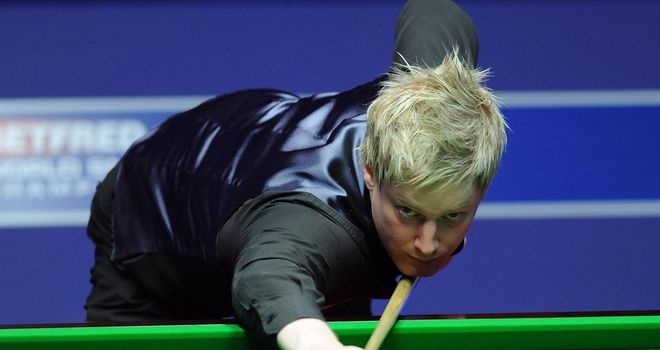 Neil Robertson: Flying start in home event
Neil Robertson delighted his home fans as he made an impressive start to the Australian Goldfields Open with a 5-1 win over Nigel Bond.
The Thunder from Down Under raced into a 4-0 lead at the interval, helped by impressive breaks of 135, 81, 92 and 113.
Bond did pull a frame back but that was all as Robertson took the sixth frame with a 93.
"I thought I played really well, the first four frames were absolutely exceptional," Robertson told www.worldsnooker.com.
"I could have had four centuries. I made two and had two other 90s. Coming back from the interval I was really happy with how I was playing.
"I think that it probably sends out a message that I'm not afraid to play in my home territory, in front of my home crowd. I don't get extra nervous as some of the other Chinese players do. They feel the extra added pressure, whereas I don't.
"It's really special to be playing in Australia, it's something that I've always dreamed of: playing in front of a home, Australian, crowd.
"I've got all my family up here as well and all my closest friends, it's fantastic to catch up with everyone, I'm just really enjoying the experience."
Competitive
Matthew Stevens - back in action after a back injury - booked his place in the last 16 by beating Liang Wenbo 5-3, aided by a break of 128.
"It was a tough match," said Stevens. "It was my first match of the season so it was a bit nerve-racking out there. I haven't really played any competitive snooker for two months, I've not even practiced.
"I was a little bit rusty but I've got a few days off now so hopefully I can put a bit of work in and improve in my next match.
Jamie Cope had to dig deep to see off recent Wuxi Classic winner Ricky Walden 5-4.
Cope started well scoring a 95 in the opening frame but they went into the break level at 2-2.
Walden took the lead winning the next frame with a 52, but runs of 103, 93 and 73 during three of the last four frames secured Cope's passage to the last 16 and a meeting with Stephen Lee on Thursday.
Trowbridge potter Lee was also taken the distance before he edged out Rory McLeod who threw away a 3-0 lead.
Andrew Higginson was a frame away from clinching his place before he went out 5-4 to Ryan Day, who knocked in breaks of 93 and 58.
Monday reuslts:
Wild Card: Cao Yupeng (Chn) bt Johl Younger (Aus) 5-2, Alan McManus (Sco) bt James Mifsud (Aus) 5-0
1st rd: Ryan Day (Wal) bt Andrew Higginson (Eng) 5-4, Matthew Stevens (Wal) bt Liang Wenbo (Chn) 5-3, Neil Robertson (Aus) bt Nigel Bond (Eng) 5-1, Tom Ford (Eng) bt Dominic Dale (Wal) 5-2, Jamie Cope (Eng) bt Ricky Walden (Eng) 5-4