Maguire ready for Hendry test
Scotsman thinks seven-time champion may be at his best on Tuesday
Last Updated: 29/04/12 2:32pm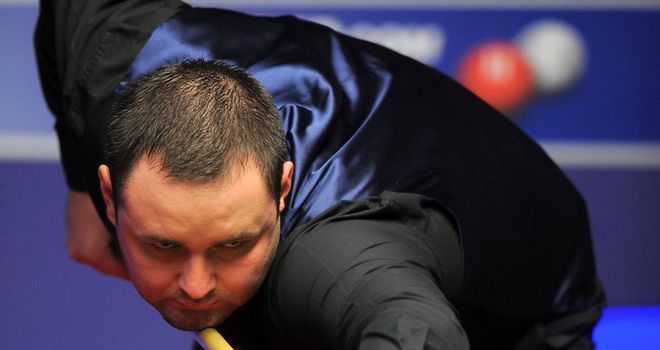 Stephen Maguire: Knows that facing Stephen Hendry at the Crucible will be a tough task
Stephen Maguire is expecting his snookering idol Stephen Hendry to produce some of his old magic in their Betfred.com World Championship quarter-final.
Hendry won the last of his seven titles at the Crucible 13 years ago but is through to the last eight this year after dropping just eight frames in his opening two matches.
After seeing off Stuart Bingham and John Higgins, Glaswegian Maguire now stands in the way of Hendry's first semi-final since 2008.
Maguire admits that facing Hendry at the Crucible - his "second home" - is a daunting task but the former UK champion is determined not to be intimidated by his fellow Scot when the contest begins on Tuesday.
"He's won it seven times, this is the place that you don't want to play him," Maguire said.
"I managed to beat him in the UK Championship but it was only best-of-11. I've never had a long-haul match with Stephen, but I wouldn't be surprised if he came out in the quarter-finals of the World Championship and just start playing the way he can."
Barren spell
Hendry is seven years into the longest barren spell of his career, having not claimed a ranking title since the 2005 Malta Cup, and Maguire believes he may be feeling the pressure despite enjoying some fine form in Sheffield.
He added: "I don't think he'll be as relaxed as maybe he makes out."
Hendry and Maguire have known each other for almost two decades, initially as occasional practice partners, then as rivals.
Prior to making a name for himself as a professional, the young Maguire was a devoted Hendry fan when his compatriot was hovering up world titles during the 1990s.
"Yes he was (my idol). I started watching snooker at 10 or 11, and at that point he won everything, he was incredible, and he was always on TV," Maguire said.
"I was lucky enough to practice with him when I was 14, 15, and I probably tried to base my game on the way I watched him on TV."