Sky Sports Today - Oct 23
Sky Sports Today - Oct 23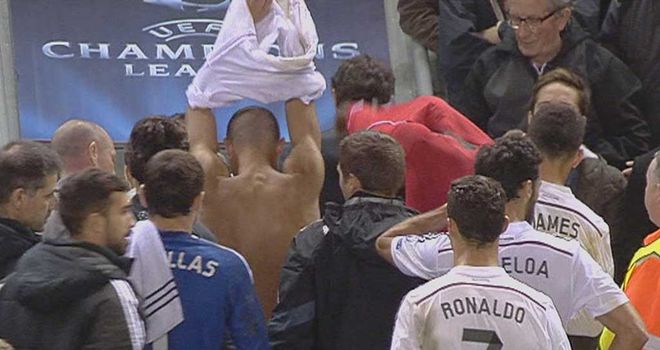 Pepe Mario Balotelli shirt swap
TODAY'S TOP STORIES

Contact us @SSNHQ or at #SST
ROYAL ARTILLERY

Kansas City Royals

recovered from their 7-1 home humiliation by San Francisco Giants on Wednesday night to win 7-2 and level the World Series much to the delight of the 40,000 fans present at Kaufmann Stadium.

PAPER TALK

The morning after the night before, here's all the stories making the back page headlines.

DAILY MIRROR

Arsenal boss Arsene Wenger has told Lukas Podolski he is not leaving the club in January after the Germany striker scored the winner against Anderlecht last night.

Podolski has been linked with a number of other clubs including arch-rivals Tottenham.

Southampton boss Ronald Koeman wants to bring former Liverpool attacker Dirk Kuyt, currently of Fenerbahce, to St

Mary's.

Tottenham are tracking Birmingham City youngster Demerai Gray.

THE SUN

Chelsea striker Diego Costa has been taken to hospital with a mystery illness.

He has been missing since he returned from international duty with Spain last week and is also suffering with a groin strain.

Leeds owner Massimo Cellino has vowed to kick out any racists from his team following allegations made against defender Giuseppe Cellino by Norwich striker Cameron Jerome.

Tony Pulis says he risked his reputation by managing Crystal Palace last season because they appeared to be a club certain for relegation.

Roy Keane says Manchester United is like a mafia family that everyone is scared to speak out against.

DAILY MAIL

The Football Association are fearful they could be rapped themselves for minor breaches of bidding regulations as a result of FIFA investigator Michael Garcia's report into corrupt bidding for the 2018 and 2022 World Cups.

Liverpool youngster Divock Origi is targeting a first blow to rivals Everton when Lille, for whom he is currently playing on loan, face the Toffees in the Europa League tonight.

THE INDEPENDENT

A leading FIFA anti-racism campaigner has warned that an African team could walk off the field at the 2018 World Cup in Russia if the country does not improve its racism issues.

The total bill for West Ham's conversion of the Olympic Stadium has risen to £618.

9m.

DAILY STAR

Everton goalkeeper Tim Howard believes he already has the edge of Lille striker Divock Origi having stopped him 15 times during the USA's match against Belgium at the World Cup in Brazil.

DAILY EXPRESS

Fabio Cannavaro, who captained Italy to the World Cup in 2006, is reportedly under investigation for tax evasion along with his wife.

West Ham midfielder Cheikhou Kouyate is set to return to action earlier than expected and could be available for the game against Manchester City this weekend.

MERSE WORRIED

However, Sky Sports Football analyst and Gunners legend

Paul Merson

remains concerned by his former club, especially their creaking defence.

GUNNERS FIRE LATE

Not forgetting

Arsene Wenger's

65th birthday present after late strikes from Kieran Gibbs and substitute Lukas Podolski earned Arsenal a 2-1 win in Brussels over Anderlecht. The Frenchman praised his side's resilience in the Belgian capital.

PERTH INTERNATIONAL

The final event of the regular European Tour season, the Perth International, is under way down under on

SS4HD at the moment until 08.30

.

Unheralded Australian John Wade sets the early pace.

CARRA CONCERN

Sky Sports football analyst

Jamie Carragher

is doubtful whether Mario Balotelli will be at Liverpool next season after the Italy forward controversially swapped shirts with Real Madrid's Pepe at half-time. Balotelli was withdrawn at the break though the European champions failed to add to their 3-0 first half advantage after the interval.

PREMIER SAY

A somewhat chastised

Brendan Rodgers

will be one of nine Premier League managers speaking to us at their press conferences today;

Sam Allardyce

on @9.45 before WHU-Man C

Neil Warnock

@11.00 WBA v C Palace

Gus Poyet

@2pm Sunderland v Arsenal

Brendan Rodgers

@2.

30 Liverpool v Hull

Mark Hughes

@3.

00 Soton v Stoke

Alan Irvine

@3.00 WBA v C Palace

SNF; Garry Monk

@3.30 Swansea v Leicester

Nigel Pearson

@3.30 Swansea-Leicester

Ronald Koeman

@4.30 Soton v Stoke




DO RON RONRonaldo

scored for the first time at Anfield to put Real on the way to a comfortable 3-0 lead. Take a look at his magnificent strike.

MORNING SPORTS FANS

Good morning to you and we'll have all the fall-out from a big European night at Anfield as well as Arsenal's win in Brussels plus the build-up to all the weekend's sporting action, plenty of which is, of course, live on Sky Sports.