Champions League live!
Build-up, live updates and reaction as Arsenal and Liverpool return to Champions League action.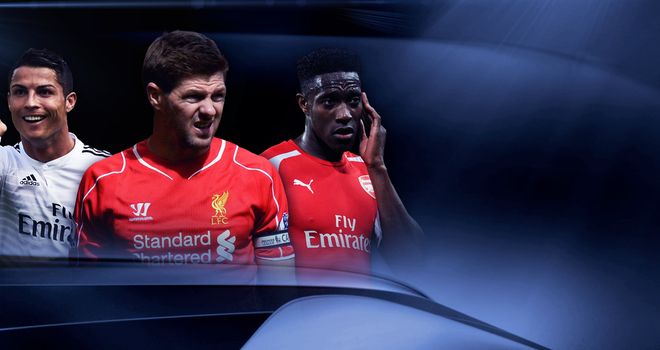 Graphic
CHAMPIONS LEAGUE LIVE

FT: Liverpool 0-3 Real Madrid

Ronaldo, Benzema (2) for Real

FT: Anderlecht 1-2 Arsenal

Gibbs, Podolski strike late

Tweet us @SkySportsCL #SkyCL
REMEMBER REMEMBER

That's it for tonight, but our Champions League coverage returns on November 4/5 as the group stages head for a thrilling climax.

We'll be back then when our live coverage includes Arsenal v Anderlecht, Maribor v Chelsea and Manchester City v CSKA Moscow.

Until then.

.

.

GOAL OF THE NIGHT

We all thought Ronaldo would win the vote, but with a helping hand from Borussia Dortmund's official Twitter account, this strike has won!

CHAMPIONS LEAGUE OUTRIGHT

After tonight, the bookies can't separate Bayern Munich and Real Madrid in the odds on who will lift the trophy, with the pair

10/3

apiece.

PLAY SUPER 6

Don't forget to submit your entry for this week's Double Jackpot in

Super 6

.




Sign up to Super 6 here.





ARSENAL MATCH STATS

Five of Arsenal's last six CL away wins have been by a single goal margin.

Arsenal have kept one clean sheet in their last 10 games (in all comps).

Neither side had a shot on target in the first half

Kieran Gibbs scored only his fifth ever goal for Arsenal

Arsenal's two goals were the last two shots of the game

Arsenal did not win a single corner in the second half

None of Arsenal's last 11 Champions League group games have ended as a draw

CARRA ON BALOTELLI

Jamie Redknapp, speaking in the studio a little earlier, didn't mince his words about Mario Balotelli - Brendan Rodgers should never have gambled on him, Redknapp reckons - and nor did Jamie Carragher. The former Liverpool defender can't see him at Anfield come next season...

PRESS CONFERENCE NEWS

A couple of interesting thoughts for you from the managers' press conferences when discussing the shirt swap between Mario Balotelli and Pepe at half-time.

Brendan Rodgers says it's something he doesn't stand for.

Carlo Ancelotti says it's "normal".

We've heard from Brendan Rodgers and Carlo Ancelotti has just described this as a very important victory. He has confirmed Ronaldo was not injured when he came off. Just being rested as expected.

LIVERPOOL MATCH STATS

Liverpool have lost a European home game by a three goal margin for the first time.

This was the first time Liverpool have conceded three goals before half-time in the Champions League since the 2005 final in Istanbul.

Cristiano Ronaldo has now scored 20 goals in 13 appearances for Real Madrid this season.

Real Madrid have now scored 2+ goals in 15 of their last 17 Champions League matches.

Eight of the last 10 goals recorded by Real Madrid have arrived in the first half.

This was the first time in eight matches in European competition (incl qualifiers) that Liverpool have failed to score at home.




RONALDO LOOKS TO RETAIN

Cristiano Ronaldo, meanwhile, is dreaming of retaining the Champions League after a famous win at Anfield. Here's that post-match interview with Geoff Shreeves...

SEASON SPARK

And here's what Kieran Gibbs - scorer of Arsenal's equaliser - had to say for himself after a dramatic finale...

WENGER PRAISES SPIRIT

We've got some of that reaction in video form for you now so let's kick off with Arsene Wenger, afforded late birthday cheer in Brussels...

BALOTELLI IN BOTHER?

If you missed it earlier, here's that half-time incident about which Brendan Rodgers was asked, Mario Balotelli swapping shirts with Pepe while his team-mates trudged in 3-0 down...

RODGERS' REACTION

And here's what Brendan Rodgers has had to say after a comprehensive defeat.

No finger-pointing from him.

.

.

I thought we made an excellent start for the first 20 minutes but after they got that first goal, they showed their quality.

In the second half we were playing for pride but they didn't stop - they were playing against a top-quality team.

We defended poorly on one or two of the goals but I can't ask for any more - we probably needed to get a goal in that opening period.

We'll look at it and learn but we were punished by a top-class side.

That's the first I've heard (about Balotelli swapping his shirt) and I wouldn't like it either.

It shouldn't happen and if that's the case, I'll deal with it.

His substitution was just tactical.

I felt we needed a bit more intensity and I thought Adam Lallana came on and did very well.

WENGER REACTION

Arsenal boss

Arsene Wenger

celebrated his 65th birthday with a remarkable last-gasp win, here's what he told Sky Sports 1 .

.

.

.

We looked to control the game in the first half, but slowly in the second half we opened ourselves up and got caught.

After we went 1-0 down, they couldn't take advantage of their chances to score a second goal and we kept going and managed to score two good goals.

We had the spirit and refused to lose the game.

We are in a strong position now as Galatasaray and Anderlecht have got only one point and we have six.

It's down to us now to win our home games and then we are through.

GOAL OF THE NIGHT CONTENDER - GIBBS

GOAL OF THE NIGHT CONTENDER - REUS

GOAL OF THE NIGHT CONTENDER - RONALDO

GOAL OF THE NIGHT
OK. Let's look back on some of the tastiest strikes we've seen across Europe tonight. Go to our Twitter account - @SkySportsCL - to pick your favourite from these three...

GIBBS REACTION

Kieron Gibbs

has expressed his relief after a sparkling final three minutes which could define Arsenal's season .

.

.

.




That was massive for us, credit to the boys for not giving up.

It wasn't easy to come here, but we've definitely made a statement now.

I felt we controlled quite a lot of the game, but our final ball was letting us down.

We just had to keep probing and it took until the last minute to get out reward.

JAMIE CARRAGHER'S REACTION

In the Sky Sports studio, Carra says Brendan Rodgers must change his approach and tighten things up at the back.

You have to change it.

You have to be more sold.

You perhaps have to change your principles for a couple of games.

At the moment Liverpool have to score two or three goals to win a game.

RONALDO REACTION

Over at Anfield,

Cristiano Ronaldo's

been speaking to Geoff Shreeves.

.

.

It was a special night.

It was my first goal at Anfield and I feel very proud but I'm happy because we got the three points.

We knew it would be a difficult place to come but I think we played fantastically - especially in the first 35 minutes - and we deserved to win.

Can we be the first team to retain the Champions League? Why not? We're taking it step by step but we're going to try.

ANDERLECHT 1-2 ARSENAL

Fair to say that former Gunners favourite

Paul Merson

was not overly-enthusiastic with Arsenal's performance:




I've seen some lucky teams in my time, but that was the luckiest I've seen for a long, long time.

They definitely didn't deserve to win, and that just covered over the cracks.

I thought Dortmund was bad, but that was really bad.

At 1-0, it could have been 2, 3 or 4-0, Arsenal were all over the place.

Anderlecht won't believe their luck, they should have finished that game off.
Show More