Last minute panic!
Christmas is not the time to start slacking, says Steve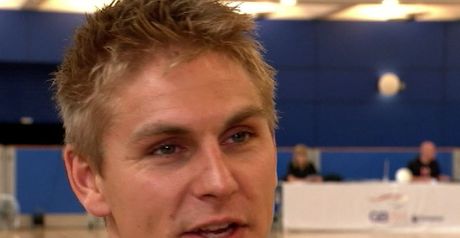 We've had our final GB training session of the year and I've also just done my last VO2 Max test too. That is one heck of a test and basically you keep on going until you cannot go anymore. I am feeling it now that is for sure but it's all good though and important to know where you stand in terms of your fitness so you can set your goals heading into 2012.
It was good to see the GB team one more time before Christmas. I know we were targeting a gold medal in the European champs but we had several injuries to key players which meant we had to field a much weaker team, so silver was a good achievement and the tournament will hold us in good stead. Sweden certainly had to work extremely hard to win gold in the final.
Before the team went our separate for Christmas we all sat down and talked about our individual responsibility that will impact the team. For me that means making sure I don't slacken off just because it is the festive season.
Training comes first
Training will take priority and I will fit the rest of Christmas around that. So if I am going out socialising, I will make sure that I have done my training before I go and meet friends. Training for me will be hitting the pool, doing some gym work and just keeping my fitness up. It is vital that we keep motivated to train - I think 2012 is a pretty big motivation! We may be away from each other but that does not mean we are going to let each other down by slacking off!
I'm looking forward to spending Christmas with my three brothers and my Mum and Dad. We are all very close and this time of year is very special for us to spend some quality family time together. I'll enjoy my Christmas like everyone else - socialising and tucking into a traditional Christmas dinner with all the trimmings, but every day is also a training day and I will make sure I stay committed to keeping my fitness levels up.
Shopping hell
My Christmas shopping has once again been a bit of a disaster. It happens every year no matter how hard I plan. Around the middle of November I tell myself to get organised and go and get all my shopping done before the shops get too crowded. I'll go out and get a couple of things and then totally forget about it again until the weekend before Christmas! My other problem is that I get out there to do the shopping and hit a blank on what I want to get! I end up going round and round in circles, getting a coffee somewhere and end up grabbing anything saying 'that will do, that will do!' This year I have more of a plan though, so let's hope it all works out.
As for what I want for Christmas, well I'm not sure. But if anyone is reading this I wouldn't mind some sort of boy's toy - a gadget of some sort always makes me happy! I also like my comedy dvds - something that makes me laugh and relaxes me.
After Christmas and all the fun and festivities comes New Year and of course some resolutions for 2012. It's a tricky one because I already do my best to be as good as I can as far as eating healthily and keeping fit. However my downfall is biscuits! I stay away from chocolate, I stay away from sweets but a packet of biscuits gets me every time. Now I'm not going to give them up completely much to the relief of bakers all around the country - but I am definitely going to have to cut down!